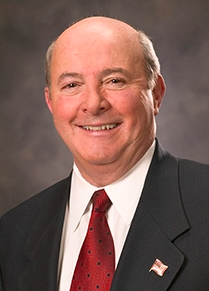 Honoring former Global CEO John Madri, leader and trailblazer
SPOKANE, WA (November 24, 2014) — Former Global Credit Union President and CEO, John Madri, died at his home in Spokane yesterday, November 23, 2014, after a long and courageous battle with pancreatic cancer. John was 78.
John Madri was born and raised in New York City. After graduating high school, John joined the US Air Force and was stationed at Fairchild Air Force Base (FAFB) in Spokane, WA. Though he left Spokane after his military duty ended, he returned a few years later and served at FAFB as a supervisory production controller, chief of classification and wage administration and chief of labor and employee management relations for the next 18 years.
In 1970 he was invited by the chief of civilian personnel to serve on the supervisory committee of Fairchild Federal Credit Union, now known as Global Credit Union, established in 1954 to serve the financial needs of military and civilian personnel at FAFB.
John became chairman of the supervisory committee and a few years later became chairman of the board of directors. Dominic Allessio, President of Fairchild Federal Credit Union, was approaching retirement and suggested that John take his place. John became president on May 1, 1980.
Under John's leadership, Global Credit Union boomed. The Credit Union opened 9 additional branches and grew assets from $30 million to $300 million. John introduced the region's first in-store branch as well as the first drive-up ATM.
John was always a champion to the employees at Global by encouraging their development and success. He was a brilliant communicator and a true trailblazer for Global Credit Union.
"John was my mentor, my role model and my friend. He showed me how to be a leader, a community activist and a good man. John's memory will live on," says Jack Fallis, Global President and CEO.
John's funeral and celebration of life will be held November 26 at 11:00am at the 
Audubon Methodist Church
. There will be a reception at 
GlobalHQ
 following the funeral.
About Global Credit Union 
Global Credit Union, founded in 1954, is a full service financial institution with assets of over $376 million serving 48,000+ members residing around the world. Membership is open to anyone living or working in Washington State, Kootenai, Benewah, Shoshone or Latah counties in Idaho, and all active military members and their families worldwide. For more information about Global Credit Union please visit 
www.globalcu.org
.
---