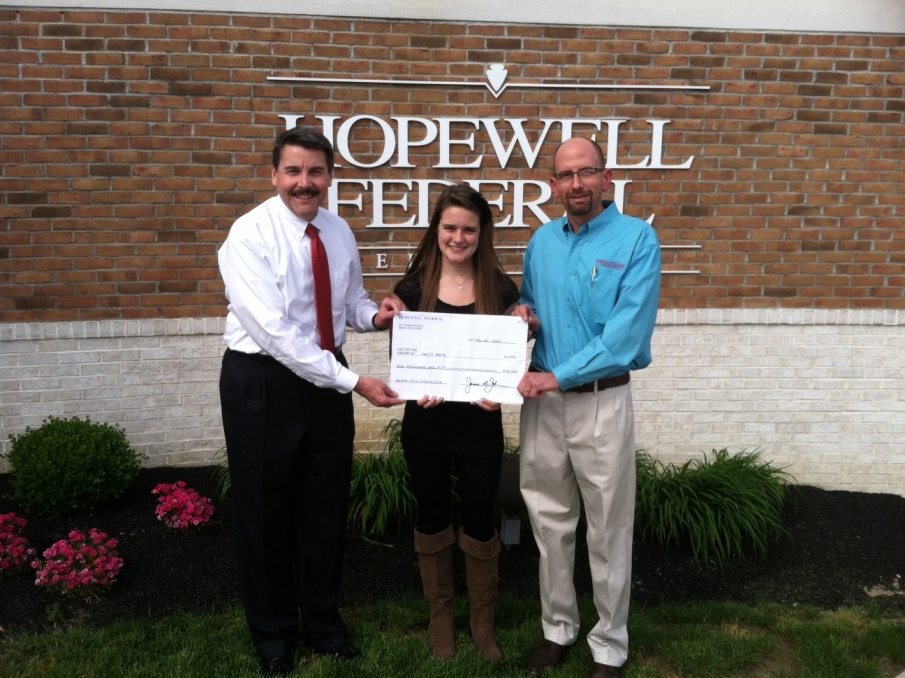 Hopewell Federal Credit Union Awards Scholarship to Local Graduate
Hayli Ward of Newark Awarded for Outstanding Essay and Academic Achievement
NEWARK, OH (May 23, 2013) Hopewell Federal Credit Union announced the winner of its $1000 scholarship.  This distinguished honor was awarded to Hayli Ward.  Hayli, who is preparing to graduate from Lakewood High School, plans to attend Bowling Green University in the fall where she will continue her career dream to become a veterinarian.
Ward excels both academically and personally and has created a strong presence in the community.  Below are just a few of her accolades.
She is active!  Participating in 4-H and the Hartford Fair Junior Fair Board
She is a leader!  Involved in National Honor Society and as a Freshmen Mentor
She is a volunteer! Giving her time to the Special Olympics
She is an athlete! Playing girls varsity golf and taking part on the swim team
James G. Johnson, President and CEO said, "Hayli was the obvious choice for Hopewell's scholarship award, she presented a well thought out essay which our panel of judges unanimously voted the winner.   I continue to be amazed by the talents of the youth of Licking County and am thrilled that Hopewell could be part of Hayli's educational pursuits."
About Hopewell Federal Credit Union (HFCU)
Hopewell Federal Credit Union, one of the leading credit unions serving Licking County, is a not-for-profit financial cooperative that is owned by its members. They provide a full range of financial services including savings and checking accounts, loan products and business accounts.  HFCU operates with the mission of helping its members get ahead financially and serves anyone who lives, works or worships in Licking County. 
---