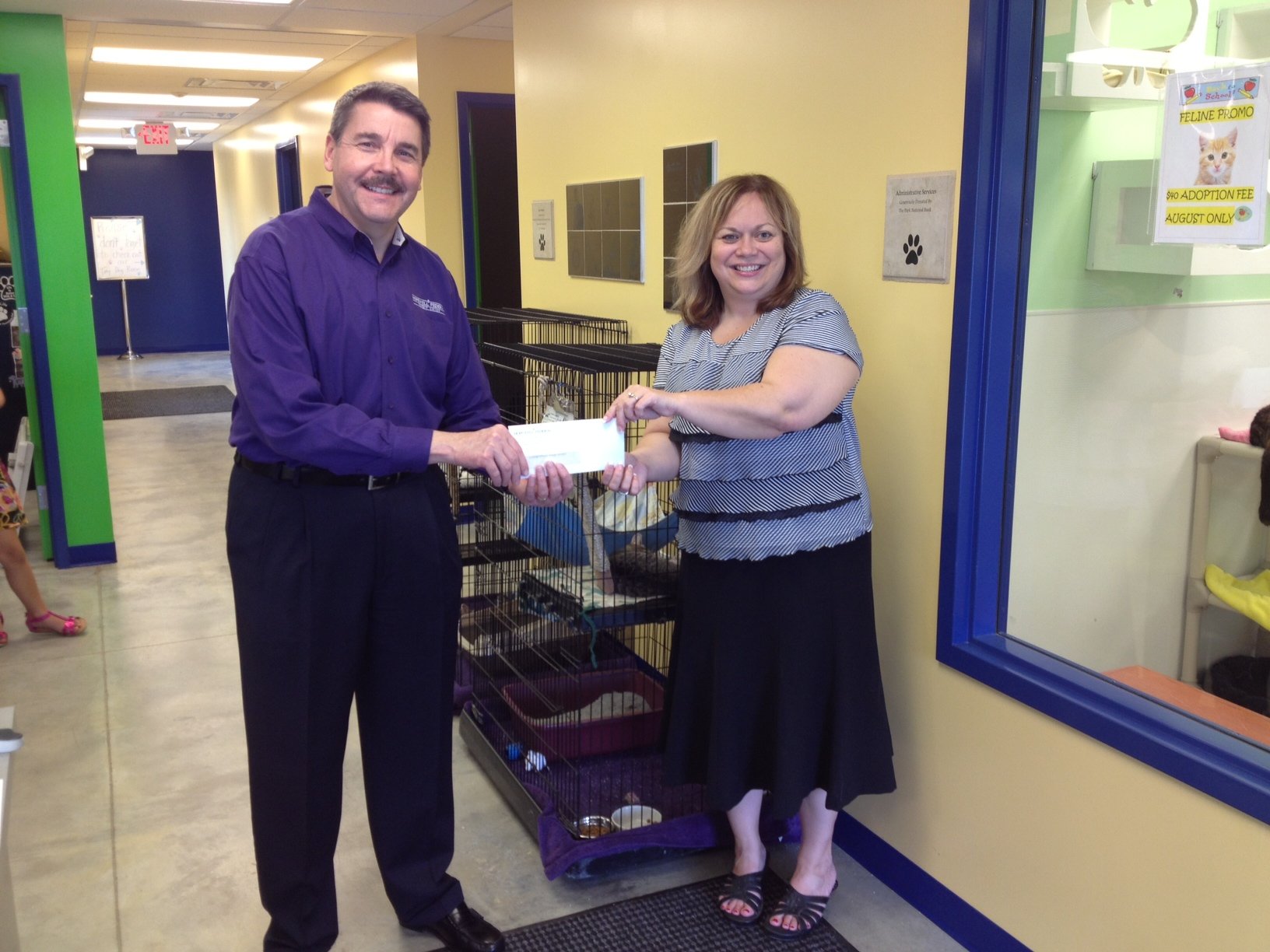 Hopewell Federal Presents Donation to the Licking County Humane Society (LCHS)
NEWARK, OH (September 6, 2013) — Hopewell Federal Credit Union (HFCU) recently held its third annual Car Show in Newark, Ohio on July 20th, 2013.  Proceeds for the event totaled $1100.00 which was presented to the Licking County Humane Society on August 30th.  The presentation occurred at LCHS's new location found at 825 Thornwood Dr SW, Heath, OH 43056.
The event, sponsored by Courtesy Ambulance, MedBill Resources, Kar Shoz, Webb Financial Group, LLC, Coughlin Automotive,Madison-Collins-Stephens Insurance, LICCO Incorporated and Newark Advocate Media / cars.com, was coordinated by Jim Matheny of Kar Shoz.  Despite the soggy weather conditions, the event was a success.  The event brought in twenty four cars featuring a variety of years, makes and models.  Attendees of the event enjoyed free admission, DJ music, 50/50 raffle and door prize drawings.  The Licking County Humane Society was on hand with some of their adoptable pets.  

About Hopewell Federal Credit Union (HFCU)
Hopewell Federal Credit Union, one of the leading credit unions serving Licking County, is a not-for-profit financial cooperative that is owned by its members. They provide a full range of financial services including savings and checking accounts, loan products and business accounts.  HFCU operates with the mission of helping its members get ahead financially and serves anyone who lives, works or worships in Licking County. 
If you would like more information about this topic, or to schedule any interviews, please contact Beth Kelly at (740) 522-8311 or email bkelly@hopewellfcu.org  
---