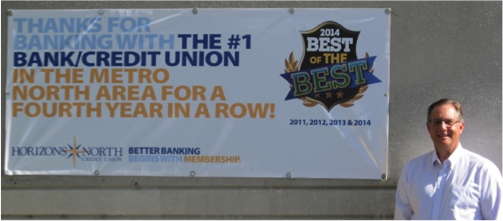 Horizons North Credit Union voted the 2014 Best Bank/Credit Union for a fourth year in a row by Readers of the Northglenn Thornton Sentinel!
NORTHGLENN, CO (July 3, 2014) — The readers of the Northglenn Thornton Sentinel, published by Colorado Community Media Newspapers have selected Horizons North Credit Union (HNCU) their best banking provider (includes banks and credit unions) for 2014.  This is the fourth year in row HNCU has received the Best of the Best award as the best Credit Union in the Metro North area from the Northglenn Thornton Sentinel readers. Additionally, HNCU was voted Best Mortgage Company, Best Customer Service, Best Boss, and Best Annual Event for our Shred Event! The readers are asked to vote online and in mail-in polls to select the best businesses in several categories.
Brad Harvey, CEO of HNCU, announced that, "It is especially rewarding to be recognized by our neighbors in the communities that make up the Metro North area.  The credit for this award goes to our service staff who work with our members every day to give them affordable, caring and reliable service.  And I credit our members with letting their family, friends and co-workers know that HNCU is the place to go for financial services.  The entire staff of HNCU sends a big 'thank you' to all who voted for us."
HNCU is in its 54th year as a full service financial institution in the Metro North area including the city of Northglenn, and the staff, students, and families of the Adams 12 Five Star Schools District. HNCU supports numerous community events and causes in the Metro North area.
---