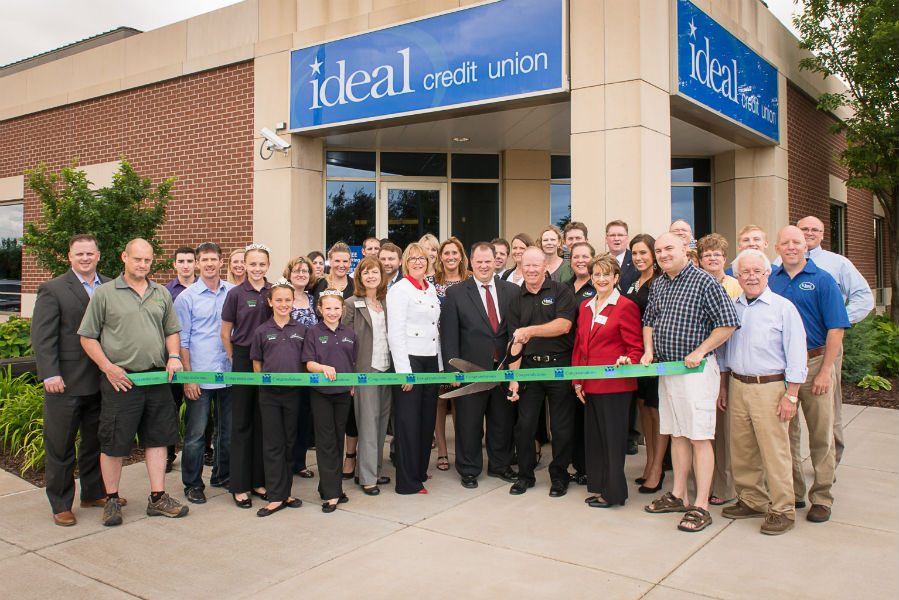 Ideal Credit Union holds ribbon cutting ceremony at Woodbury corporate headquarters
WOODBURY, MN (June 23, 2014) — Ideal Credit Union held a ribbon cutting ceremony at its corporate headquarters in Woodbury on June 18, 2014 to celebrate the successful rebranding of the 88-year old cooperative. Local dignitaries, royalty, chamber members and credit union representatives took part in the festivities.
Ideal Credit Union President/CEO Brian Sherrick spoke briefly about the 88-year history of the credit union and how the new name brings opportunity for growth in the future. Woodbury Mayor Mary Giuliani Stephens congratulated the credit union on its rebranding and expressed her thanks for its commitment to the community. "It's going to take me a while to get used to the new name because I am so used to saying PCU," Stephens said, "but I understand the need to change with the times and wish you continued success."
Woodbury Chamber President Barbara Tuccitto Warren also thanked the credit union for its support through the years and its role as an active member of the business community. The ribbon cutting ceremony was coordinated through the Woodbury Chamber.
Formerly Postal Credit Union (PCU), the change to Ideal Credit Union took effect June 4, 2014. The change to Ideal was a thoughtful and strategic move by management and the credit union's board of directors.  Extensive research showed the credit union needed a name that would better align it with its broad and diverse community-based membership, and provide a foundation for growth in the years ahead. There is no merger, no new ownership and no new management.
Members will continue to receive the same excellent products, services and member care to which they have become accustomed.  "Our goal is to be the ideal financial institution for all our members and the Twin Cities Metro community we serve. We've worked hard to reach that ideal service level over the years and we're proud of the financial help we offer. Our new name tells the community what they can expect from our credit union," Sherrick said.
"Join us in this new era of growth, increased resources and dedication to our decades-long commitment to serve."
Founded in 1926 as St. Paul Postal Employees Credit Union, Ideal Credit Union is a member owned financial institution that specializes in providing excellent member service, great rates and convenience. Ideal CU offers a complete range of services, including 24/7 loan approval, mortgages, online banking, online deposits, mobile banking and bill pay, free checking, business services, investment services and more. Ideal CU serves the Twin Cities metro area with office locations in Eagan, Hugo, North St. Paul, West St. Paul and Woodbury. For more information, call 651-770-7000, 800-247-0857 or visit www.idealcu.com.
---