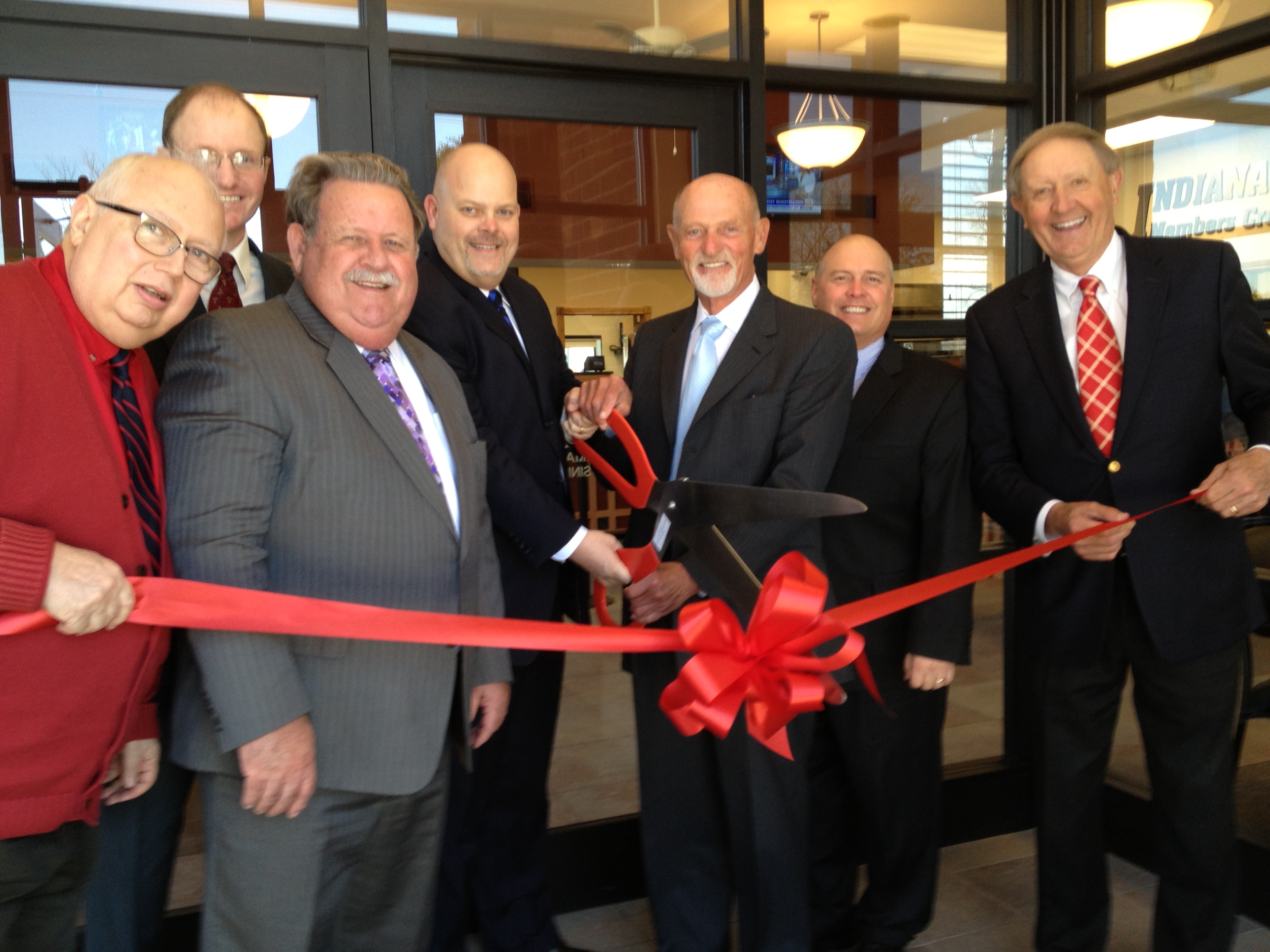 Indiana Members Credit Union Celebrates Brownsburg Branch Grand Opening
INDIANAPOLIS, IN – Indiana Members Credit Union (IMCU), Central Indiana's largest credit union, celebrated the grand opening of its newest branch in Brownsburg, IN with a ribbon cutting ceremony.  The Brownsburg Branch, located at 1553 North Green Street, is IMCU's 24th location in Central Indiana.  The celebration included branch tours, refreshments, prizes and local entertainment.
The full service branch includes a drive thru and a surcharge-free Alliance One ATM.  Branch hours are Monday through Thursday, 9 am – 4 pm, Friday, 9 am – 6 pm and Saturday, 9 am – 1 pm.  Drive thru hours include Monday through Thursday, 8 am – 5pm, Friday, 8am – 6pm and Saturday, 9 am – 1 pm.  The credit union has a full portfolio of services to offer their members that compare favorably to other financial institutions including checking, savings, various consumer loans and mortgage lending products as well as commercial lending products and services.
IMCU also has an objective to help the people in the community build a sustainable financial future and operates on the credit union philosophy of "People Helping People".
Ron Collier, CEO of IMCU, says, "We are excited to be a part of Brownsburg and look forward to offering our credit union services to the community.  We value each and every relationship built and truly care about members' financial health.  We are delighted to offer the lending expertise of Brownsburg native, Jay Puckett, who will serve the area as Regional Manager for IMCU."
Jay Puckett, Regional Manager for IMCU stated, "I can't begin to tell you how excited I am to be back 'home' here in Brownsburg. The staff at Brownsburg truly cares about our members, and the communities we serve at this branch.  It is our goal to provide excellent credit union services to this area.  Every relationship we develop is different but equally important to us.  We are committed to our members' financial well-being and continue to be active in, and give back to the community.  Just like Brownsburg, we offer 'Big City Convenience with a Small Town Feel'."
IMCU differentiates itself not only through the culture and commitment to service but also through true benefits including free checking with no monthly requirements to meet each month, free debit cards, instant issue debit cards and Visa® credit cards with rewards for travel and merchandise.  IMCU also offers members secure and convenient 24/7 access with online and mobile banking.
For more information about IMCU or the new Brownsburg location, visit www.imcu.org or contact Jay Puckett, Regional Manager, IMCU, 317-341-1852, jpuckett@imcu.com.
About Indiana Members Credit Union
Indiana Members Credit Union, headquartered in Indianapolis, Indiana, was founded in 1956 as the Indiana University Medical Center Federal Credit Union on the campus of IUPUI, and has since grown to 24 branches in Central Indiana, offering members a better financial alternative and a full array of products and services.  Traditionally offering better rates on loans and deposits, IMCU maintains true to its roots by "Keeping It Simple" for members.  For more information, please visit IMCU online at www.imcu.org.
---