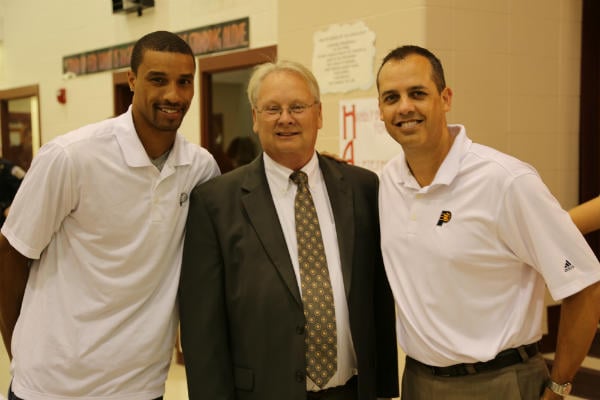 Indiana Members Credit Union participates in a "Summer Christmas" at IPS School #44
INDIANAPOLIS, IN (September 24, 2013) — Through its partnership with the Indiana Pacers and Indiana Fever, Indiana Members Credit Union (IMCU), Central Indiana's largest credit union, took part in a summer toy giveaway at IPS School #44 on Wednesday, August 14, 2013.  Through a project called, "Summer Christmas", 1,000 toys were given to the children of IPS School #44, which is supported by the Indiana National Guard.  This summer over 20,000 toys will be donated to children of Central Indiana families by the Indiana Pacers and Indiana Fever, in partnership with the leading U.S. toy and consumer products company, JAKKS Pacific.
IMCU has partnered with IPS School #44 over the past few years and through numerous drives, has already collected and donated items for their food pantry and school uniforms for every student, all necessary items for the students to be successful at school.  The "Summer Christmas" program was another way IMCU was able to give back to the students at IPS School #44.
"Giving back to the community is important to IMCU and we are always glad to help our friends at IPS School #44," said Ron Collier, President and CEO of IMCU.  "It's wonderful to see the joy and excitement on each child's face as they receive the toys that JAKKS Pacific so generously donated.  IMCU is glad to have our partnership with the Pacers and Fever and appreciate the opportunity to work with these fine organizations and come together for this very important goal!"
Collier, along with IMCU employees, joined Indiana Pacers coach Frank Vogel, Pacers player and star George Hill, Indiana Fever guard Katie Douglas, IPS officials and IPS School #44 Principal, Kirshawndra Davis, at the IPS ceremony to present the toys to the students.  Boomer, Freddy Fever and the Boom Babies were also on hand to greet the students.
About Indiana Members Credit Union
Indiana Members Credit Union, headquartered in Indianapolis, Indiana, was founded in 1956 as the Indiana University Medical Center Federal Credit Union on the campus of IUPUI, and has since grown to 25 branches in Central Indiana, offering members a better financial alternative and a full array of products and services.  Traditionally offering better rates on loans and deposits, IMCU maintains true to its roots by "Keeping It Simple" for members.  For more information, please visit IMCU online at www.imcu.org.
---