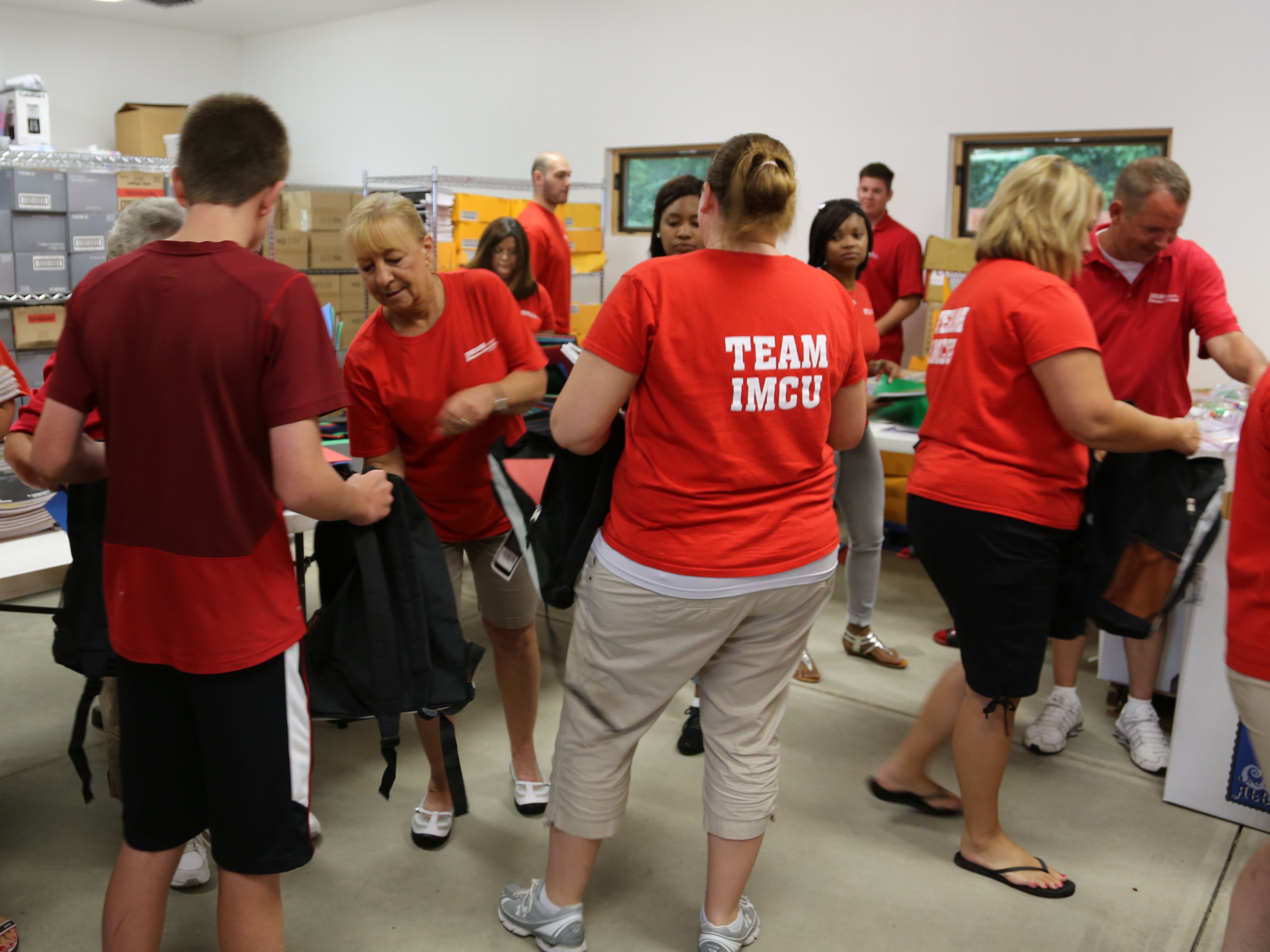 Indiana Members Credit Union Provides 4,000 Backpacks to Students
INDIANAPOLIS, IN (August 15, 2013) — Indiana Members Credit Union (IMCU), along with extremely generous members hosted a successful school supply campaign and provided 4,000 backpacks and school supplies to underprivileged children.  Enough funds were raised for IMCU to donate more than 80,000 supplies, which included:  backpacks, erasers, pencils, calculators, crayons, markers, spiral notebooks, pens, pencil sharpeners, rulers, notebook paper, scissors, pocket folders, colored pencils, glue sticks and composition notebooks.
IMCU employees volunteered their time to fill the backpacks at their "Stuffing Party" on Saturday, July 20, 2013, at their headquarters located at 5103 Madison Avenue, Indianapolis.  In addition, IMCU, in partnership with Indy BackPack Attack, disbursed the 4,000 backpacks, filled with school supplies, during public distribution events on Saturday, July 27, at 17 IMCU locations and Arsenal Technical High School.  Children were able to receive a free backpack at the events when accompanied by an adult.
It's reported that 88% percent of the families in the Indianapolis Public Schools (IPS) need help with basic school supplies.  IMCU has partnered with programs in Marion and surrounding counties to provide underprivileged children the supplies they need to start the school year.  The programs included:
Indy BackPack Attack
Hendricks County BackPack Attack
Johnson County FastTrack Program
Franklin Township FastTrack
Carmel Clay Township Trustee
Noblesville Trustee
Muncie Mission
Westfield "Open Doors Project"
Warren Township Common Goal
Zionsville Community School Corporation  
Ron Collier, CEO of Indiana Members Credit Union, stated, "It's remarkable to have the support of IMCU members, employees, board of directors, community members and volunteers year after year for this worthwhile cause.  I am proud of our organization and the community for being a part of this initiative and assisting to provide the pertinent tools for students to be successful in their education.  IMCU was founded in education on the campus of IUPUI, and on the principles of helping others succeed.  We are committed to giving back to the communities in which we serve and I would like to thank everyone for their generous support.  There is a great need which can be met with the support of local businesses and we encourage others to help us in this effort to aid our children with their education."
For more information about IMCU's school supply campaign, please visit their website at:  www.imcu.org. 

About Indiana Members Credit Union     
Indiana Members Credit Union, headquartered in Indianapolis, Indiana, was founded in 1956 as the Indiana University Medical Center Federal Credit Union on the campus of IUPUI, and has since grown to 25 branches in Central Indiana, offering members a better financial alternative and a full array of products and services.  Traditionally offering better rates on loans and deposits, IMCU maintains true to its roots by "Keeping It Simple" for members.  For more information, please visit IMCU online at www.imcu.org.    

About Indiana Members Foundation
Indiana Members Foundation was founded in 2010, exclusively for the purpose of being a positive influence in the community served by Indiana Members Credit Union; specifically, providing school children in the Indianapolis area with the necessities essential for learning and succeeding in their education.  For more information, please visit www.imcu.org/foundation.
---