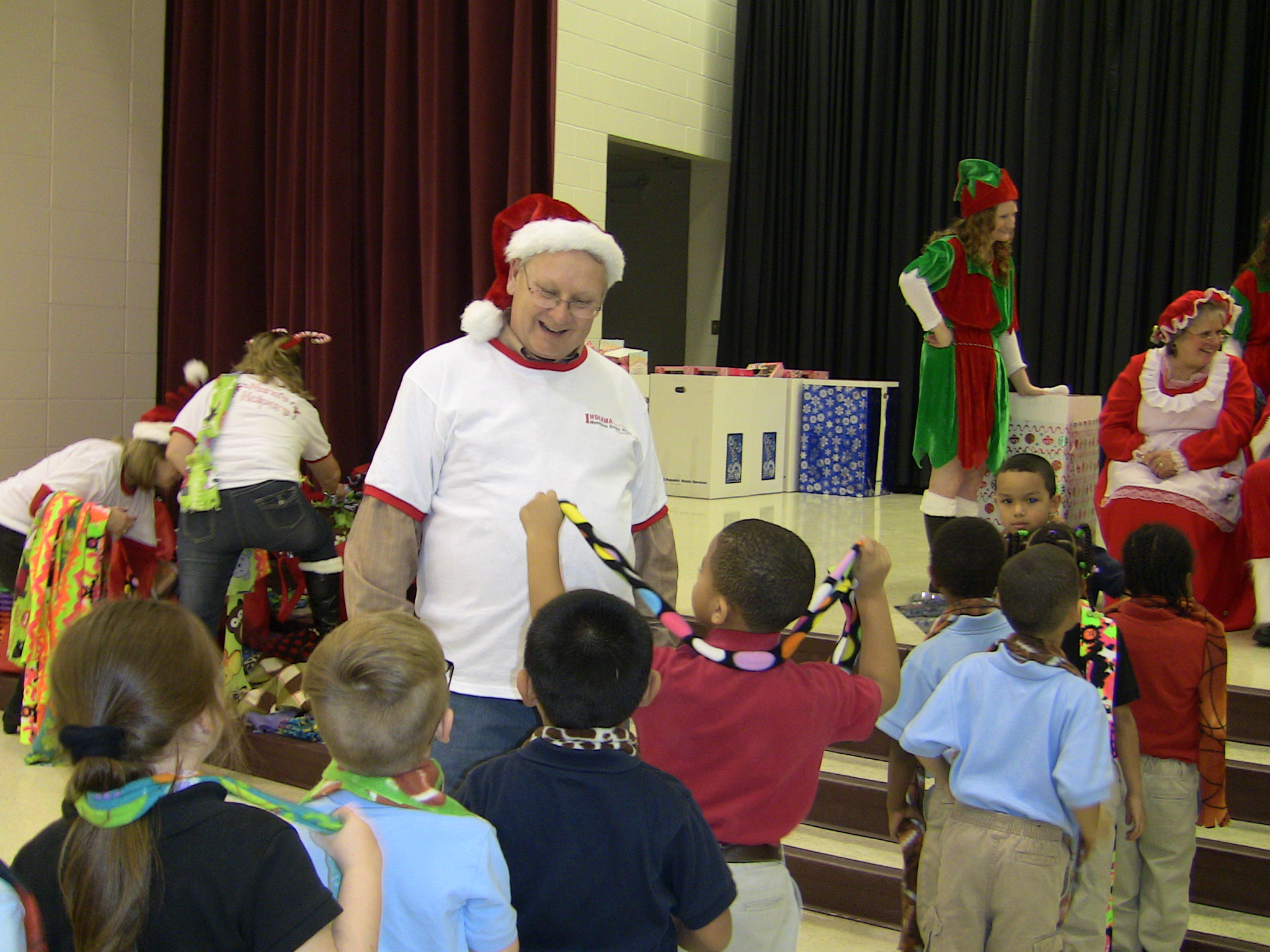 Indiana Members Credit Union Provides a Holiday Event to Remember at Local School
IMCU Hands Out Toys, Scarves and Food to IPS School 44 During Holiday Event
(Indianapolis, IN, January, 2013)  Indiana Members Credit Union (IMCU), Central Indiana's largest credit union, prepared a special holiday event for a local school in its' community.  IMCU hosted a holiday celebration at IPS School 44, Riverside Elementary, in Indianapolis, where they distributed handmade winter scarves and toys to over 500 students and turkey dinners to all faculty and staff on Thursday, December 20, 2012.
IMCU has partnered with IPS School #44 during 2012 and has already collected and donated, through numerous drives, items for their food pantry, socks, gloves, under garments and school supplies, all necessary items for the students to be successful at school, but wanted to do more this holiday season.
"IMCU wanted to provide IPS School #44 with a special holiday celebration that included items not only for the students but also for all the faculty and staff," stated Ron Collier, CEO of IMCU.   "We gathered items for a turkey dinner gift basket which were given to each and every staff member.  IMCU employees also donated money to purchase materials to make scarves for the kids at 44, in lieu of having an internal gift exchange.  Employees at our Southside location took an afternoon to cut out the fleece material to make over 500 scarves for the students.  In addition, each student was provided with a toy from IMCU in conjunction with the Indiana Pacers and JAKKS Pacific, INC, from their 'Christmas in July' program."
Mandy Emery, AVP Community Relations for IMCU, planned and orchestrated the holiday celebration at IPS School #44.  "Providing the students and staff with this holiday event was truly heartwarming.  The children were all so excited to get to see Santa and receive an early present.  We wish everyone a happy and healthy holiday season," stated Emery.
At the holiday celebration, each student received an age and gender appropriate toy and handmade scarf and each staff member received an IMCU gift bag containing a turkey, all items needed for a green bean casserole, brownie mix, stuffing, corn bread mix, potatoes and cranberry sauce.  All items were delivered to IPS School #44 courtesy of Enterprise Car Sales who donated one of their box (commercial?) trucks for the event.  IMCU employees, board members and CEO, along with the credit union mascot, Cubbie, Santa and Mrs. Claus, presented the students and staff with the toys, scarves and dinners in the gymnasium a class at a time.
"The generosity displayed by our employees and their willingness to help others, not only during the holiday season, but throughout the year, is a source of pride for me," said Collier.   "Our intent was to bring holiday cheer to those at IPS School 44, but really, it was a gift to get to spend such quality time with the children, staff and administration."
Indiana Members Credit Union, headquartered in Indianapolis, Indiana, was founded in 1956 as the Indiana University Medical Center Federal Credit Union on the campus of IUPUI, and has since grown to 23 branches in Central Indiana, offering members a better financial alternative and a full array of products and services.  Traditionally offering better rates on loans and deposits, IMCU maintains true to its roots by "Keeping It Simple" for members.  For more information, please visit IMCU online at www.imcu.org.
---