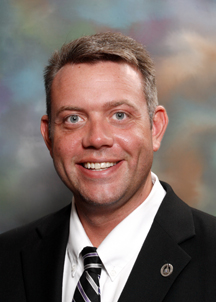 Industry Veteran Urges Minnesota Credit Unions to Engage in Elections, Political Advocacy
BLOOMINGTON, MN (June 21, 2013) Political engagement was at the heart of the message delivered to more than 300 Minnesota credit union professionals and volunteers last month at the Minnesota Credit Union Network's Annual Meeting & Convention.
Dr. Paul Withey, Vice President of Strategic Development & Public Relations at Texas Bay Area Credit Union in Houston, Texas, and MnCUN Vice President – Governmental Affairs Mara Humphrey spoke with attendees about the importance of being active participants in the political process, and discussed innovative ways to make an impact during elections.
Dr. Withey has worked in the credit union industry for 16 years and has held numerous leadership posts within the Texas Credit Union League (TCUL) Board of Directors, the TCUL Legislative Affairs Committee and as a Political Action Committee Trustee. He holds a Doctorate degree in management and organizational leadership. a
"People often don't like to talk about it, but the world of politics is extremely competitive, especially when industries have to go head-to-head due to competing interests," Dr. Withey said. "The current environment in the credit union industry is such that we need to be able to beat the bankers in the political arena. Strong advocacy and grassroots involvement is the way to do that."
Dr. Withey outlined three main areas where credit unions can be most impactful in their political advocacy efforts.
1)      Support credit union political action committees.
Political Action Committee (PAC) giving is a critical component of any viable organization, Withey said. MnCUN raises funds for the state credit union PAC – Credit Union Volunteer Committee (CUVOL) – and the federal credit union PAC – Credit Union Legislative Action Committee (CULAC).
2)      Participate in Project Zip Code.
Project Zip Code (PZC) is a computer program that converts a credit union's database into a valuable political tool. PZC counts total membership numbers and calculates how many people live in each state legislative and congressional district. This information greatly increases credit unions' political strength, enabling advocates to show legislators how a particular issue will impact a specific number of voters in their district. This program does not remove any member information from a credit union's system and does not expose members' private data. The only information gathered by the program is the total number of members in each legislative district.
3)      Engage in partisan communications.
Partisan communications are an effective way for credit unions to get involved in the election process and create powerful relationships with political allies. As direct mail postcards, these communications promote a candidate only to primary voters and registered Republicans and Democrats, and they create positive word-of-mouth for credit unions. Postcards do not tell recipients who to vote for, but rather show that a particular candidate supports credit unions.
Dr. Withey gave a real-life example of how the Texas Credit Union League has engaged in partisan communications, specifically in supporting Lt. Gov. David Dewhurst's campaign for U.S. Senate in 2012.
"Credit unions [in Texas] were initially nervous about endorsing a candidate," Dr. Withey said, but he added that concerns were quickly alleviated as soon as credit unions got involved in the experience. Most importantly, they understood the significance of taking this political step.
"If you're going to win, if you're going to get noticed, credit unions need to get involved in campaigns," he said.
Even though Lt. Gov. Dewhurst lost the election for U.S. Senate, he remains in a position of power in Texas. And because of credit unions' support of him and his campaign, he has pledged to do anything he can to help the industry.
"The Lieutenant Governor told the Texas Credit Union League, 'You really stepped up to the plate for us. Whatever you need, whatever is in my power to do, we'll get it done for you.'" Dr. Withey said. "That's the position we want to be in, and these types of communications are going to be the path forward for credit unions in this industry."
In another effort to sustain the viability of credit unions, Humphrey has been actively promoting Don't Tax My Credit Union, a new grassroots advocacy campaign being driven by the Minnesota Credit Union Network, the Credit Union National Association, and other state leagues from around the country.
Right now, the credit union corporate income tax exemption is under threat by the federal tax reform that's being discussed by Congress. One option being considered is to eliminate all tax exemptions in the tax code and add back in those that are deemed necessary by legislators. More than 400 other industries enjoy special tax status under the current tax code. For the credit union message to be heard above the noise of hundreds of others, credit union professionals, volunteers and members need to proactively advocate for inclusion in a new tax code.
"This is an all-out grassroots advocacy effort, and we need credit unions to involve their members in this campaign," Humphrey said. "It is critical that Congress hear from millions of credit union members that they want the credit union tax status preserved."
---