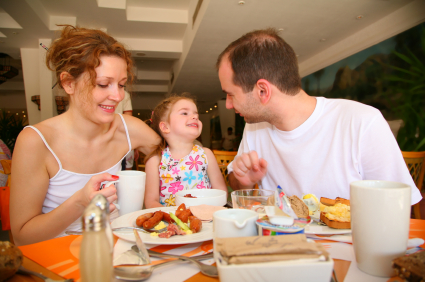 Is Eating Out Cheaper than Cooking at Home? A New GoBankingRates' Report Says Yes
In the last decade, the cost of cooking and preparing meals at home has increased by a whopping 38%. In the latest report from www.GoBankingRates.com, the personal finance website compares the cost of eating at home vs. eating out and finds that making meals at home actually costs families more money than eating out.
EL SEGUNDO, CA, April 17, 2013 – The cost of feeding a family of four has risen from $601.50 in February 2003 to $830.30 in February 2013, a 38 percent increase in ten years, according to the United States Department of Agriculture. GoBankingRates investigates rising food costs, low prices of fast food value menus, and special offers from restaurants, and discovers that eating out is surprisingly cheaper than cooking.
This is especially true when directly comparing the cost of a meal at a restaurant to preparing the same food at home, as reported in MSN.com's article "Is eating out cheaper than cooking?"
"When comparing the cost of a 10 oz. rib-eye dinner (with soup, salad and asparagus) from Outback Steakhouse with that of the homemade version, Outback was $2.53 cheaper," points out GoBankingRates expert contributor, Stacey Bumpus. "And comparing seafood alfredo (with unlimited salad and breadsticks) at Olive Garden to making it at home, Olive Garden was $3.79 cheaper." Moreover, the added convenience and time savings of eating out can add extra value for consumers.
Ms. Bumpus points out that growing up, she was taught to prepare food at home because it was the cheaper alternative to eating out.
"A few decades later, however, it appears that parents are no longer saving money by cooking at home," says Ms. Bumpus. "With fast food restaurants continuously adding value menus and grocery costs rising, dining out for many families has become the financial preference."
Eating at home may not be saving money the way it used to, but homecooked meals are often more nutritious and healthful, Ms. Bumpus discovers. The report also includes practical guidelines that consumers can apply to save money while preparing healthy meals at home.
Read the complete report here.
For questions about this article or to speak with a GoBankingRates editor, please use the contact information below.
About GoBankingRates
GoBankingRates.com is a national website dedicated to connecting readers with the best interest rates on financial services nationwide, as well as informative personal finance content, news and tools. GoBankingRates collects interest rate information from more than 4,000 U.S. banks and credit unions, making it the only online rates aggregator with the ability to provide the most comprehensive and authentic local interest rate information.
---