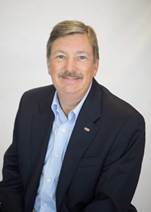 J.B. Hoyt to retire as United Federal Credit Union Chairman
(April 30, 2015) — United Federal Credit Union (UFCU) announced today that its Chairman, Mr. J.B. Hoyt, will be retiring from the credit union's Board of Directors on June 30, 2015.  Hoyt, a 28 year veteran of the credit union's volunteer Board of Directors, announced his intentions to retire as the next step in a multi-year plan that he introduced to the Board two years ago aimed at advancing their management and governance capabilities.
At the time of his announcement, Hoyt transferred his responsibilities as Chairman to Mr. Mike Hildebrand, UFCU's Vice Chairman.
Mr. Hildebrand said, "I am honored to assume these responsibilities during this transitional period.  I want to extend my thanks to J.B. Hoyt for his nearly three decades of service to UFCU and for the many, many contributions that he made to setting the direction for the credit union.  J.B. Hoyt played a key role in leading UFCU to growth, better service to Members and industry recognition.  It is precisely because of J.B's far-reaching vision and planning to improve this Board's effectiveness that we are now in a position to move ahead with further evolving the Board's mission and methods."
During his tenure as a Director and his nearly six years as Chairman, Hoyt helped lead the credit union to an expansion in scale from $90 million in assets to over $1.8 billion today – a twentyfold increase.  Similarly, UFCU has grown from four branch office locations to nearly 30 branches today located in six states.  Hoyt's approach put UFCU's Members' needs first; expansions in operations were always aimed at growing the credit union's product and service offerings and improving convenience.  Hoyt's tenure led to a number of firsts for UFCU and the credit union industry. Picking up the reins as Chairman to carry on the vision of John Steinke and the Board, J.B. successfully oversaw the culmination and final integration of the then largest voluntary credit union merger in U.S. history.  J.B.'s personal impact on UFCU also included the first acquisition of a bank by a federally chartered credit union, industry recognition in 2013 as National Federal Credit Union of the Year and Michigan Outstanding Credit Union of the Year, and UFCU's recent ranking in the Top 100 U.S. credit unions as measured by assets.
When asked about his motivations to serve as a Director, Hoyt said, "I first became interested in the credit union as a Member – it was a place where you were treated as a person, not as a number.  Later, in 1987 I joined the Board to make a personal contribution to improving Member service.  I thought I'd serve for just a few years, but the challenges of the financial services industry and UFCU held my interest and gave me new ways to deepen my contributions, year after year."
Hoyt is a member of the Michigan Credit Union League and a graduate of the Credit Union Executive Society Leadership Institute.  He is also a Director and founder of Michigan's Great Southwest Sustainable Business Forum and was a founding Director of the Alliance for Water Efficiency.  A graduate of Michigan Technological University and the University of Michigan, he also served as a Director of the Michigan Tech Fund.  Hoyt's professional career was capped as Director of Government Relations at the Whirlpool Corporation where he retired in 2012.
Regarding his decision to end his service to UFCU, Hoyt said, "I'm very pleased with how the other Directors have supported the initiative that I introduced two years ago to evolve the Board into an even higher-performing team.  With the progress that we have already made as part of that plan, I concluded that now was a good time for me to open up my Board seat in order to bring in more diversity of experience and thought to UFCU's Board at an even faster rate."
About UFCU
United Federal Credit Union has served its Members since 1949 by helping them to build a sound financial future. UFCU consists of more than 130,000 Member/owners worldwide, and manages assets in excess of $1.8 billion. Its corporate offices and main branch are located in St. Joseph, Mich., with additional branches in Arkansas, Indiana, Michigan, North Carolina, Nevada, and Ohio.
---