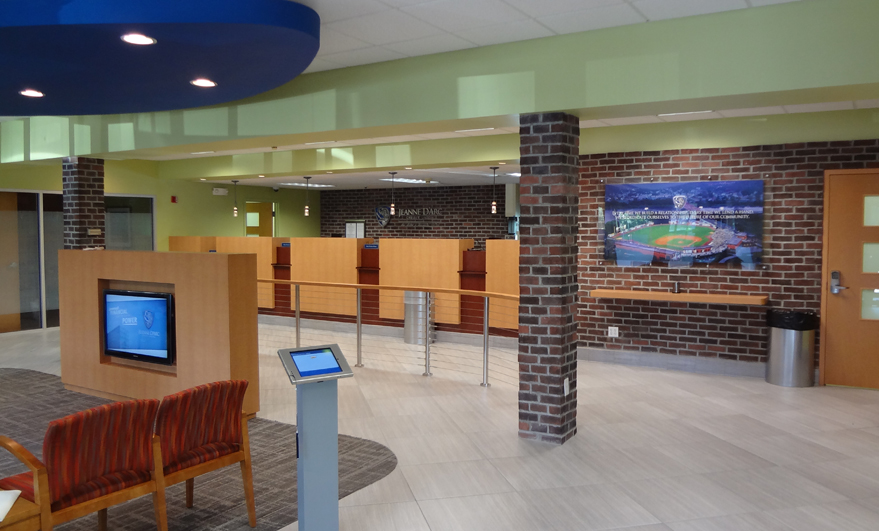 Jeanne D'Arc Credit Union Modernizes Lakeview Avenue Branch in Dracut
LOWELL, MA (August 9, 2013) — Jeanne D'Arc Credit Union is pleased to announce that it has modernized its first branch location, opened in 1997 on Lakeview Avenue in Dracut, making it more attractive, comfortable, and convenient for members.
"Our newly refurbished branch on Lakeview Avenue in Dracut shows that Jeanne D'Arc cares about the environment in which our members conduct their business," said Mark S. Cochran, President and Chief Executive Officer of Jeanne D'Arc Credit Union. "We are proud of the branch's new look and have received very positive feedback."
Jeanne D'Arc Credit Union worked with their Brand Design Firm Raoust + Partners of Hampton, Virginia, in designing the new look and feel of the Lakeview Avenue branch.
The refurbished branch looks toward the future with its vibrant colors, cutting-edge technology, and signature scent, but also evokes memories of the region's historic mill buildings with its inclusion of red brick throughout the branch.  Jeanne D'Arc Credit Union consistently prepares for the future with ever-evolving technology, products, and services, while also striving to honor and preserve our past.
About Jeanne D'Arc Credit Union
Jeanne D'Arc Credit Union was established in 1912 and is a full-service, member-owned community-based financial cooperative with more than 60,000 members and $1 billion in assets. It operates six full-service branches in Lowell, Dracut (2), Tyngsboro, Chelmsford and Methuen, Massachusetts; a high-school branch at Lowell High School; a loan center in Lowell, and a mortgage center in Chelmsford.
---