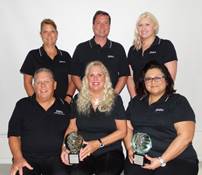 John M. Floyd & Associates wins AMA Houston Crystal Awards
Two JMFA marketing campaigns selected for strategy, message-alignment and results.
BAYTOWN, TX (May 21, 2015) — John M. Floyd & Associates (JMFA), the leading consultant for banks and credit unions nationwide, received top honors at the 29thAnnual American Marketing Association (AMA) Houston Crystal Awards Gala. JMFA's New Overdraft Privilege Program marketing endeavors were recognized as Best in the Business-to-Business Marketing Campaign and Two-Dimensional Printed Direct Mail Campaign categories.
"We are certainly honored to receive this recognition from the AMA for the efforts that went into our 2014 marketing initiatives, as well as the results," said John M. Floyd, chairman and CEO. "The All-New Overdraft Privilege Program campaign allowed us to increase awareness among financial institutions of the changing regulatory requirements that have made many existing overdraft programs obsolete and to explain how our product could not only help them maintain compliance, but also increase their institution's performance and efficiencies."
In addition to surpassing initial marketing objectives, the campaigns presented an important message regarding the need for financial institutions to provide full disclosure to account holders about how their transactions will be handled. "As a long-time advocate of transparent financial services, we are committed to building relationships by helping our clients improve their profitability while they provide products and services that are beneficial to their account holders," Floyd said.
The Crystal Awards, AMA Houston's premier event, honors the vision and strategic direction of the city's best marketing work. Winners are selected based on the effectiveness of their marketing and communication success. This year's judging included more than 360 entries in 80 categories.
Accepting the AMA Houston Crystal Award for JMFA are: (front row, l to r): John M. Floyd, chairman/CEO; Cher Floyd, chief operating officer; Stefani Soza, marketing director. Back row, Kathy Morales, chief administrator; John Cohron, executive VP of operations and chief information officer; and Brooke Stuewe, marketing & strategic sales manager.
About AMA Houston
AMA Houston is the area's premier professional marketing organization and the nation's largest AMA chapter. AMA Houston provides marketers the ability to remain competitive in today's business environment through networking events, special interest groups and real-world educational programs. Named Chapter of the Year six times in the last nine years by AMA's international headquarters, AMA Houston serves more than 1,100 members with diverse marketing expertise from a variety of industries. For information, visit www.amahouston.net.
 
About JMFA
JMFA is a leading provider of profitability and performance-improvement consulting. For more than 35 years, JMFA has been recognized as one of the most trusted names in the industry for earnings enhancement and expense control programs, training and development, and recruitment services, as well as product, service, pricing and technology-improvement consulting. Simply stated, JMFA's programs and services are designed to increase income or reduce expenses. JMFA is proud to be a preferred provider among many industry groups. To learn more about JMFA, please visit www.JMFA.com or call (800) 809-2307.
---