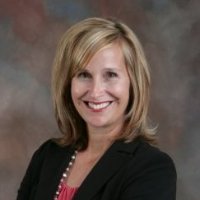 Julie Blitchok joins Educational Community Credit Union as its new President & Chief Executive Officer on March 2
KALAMAZOO, Mich. (February 23, 2015) — Educational Community Credit Union (ECCU) has selected Julie Blitchok as its new President and Chief Executive Officer. Blitchok begins her new role on March 2, 2015, and will succeed CEO Charles Cornelius, who is retiring after 36 years of service.
Blitchok has 23 years of credit union executive and leadership experience. For the past 13 years, she has served as Senior Vice President of Retail Operations for Lake Michigan Credit Union, in Grand Rapids, Mich. Her prior experience also includes serving as CEO for smaller and mid-sized credit unions and as a board member for the Michigan Credit Union League.
"I am both excited and honored to join ECCU as CEO," says Blitchok. "I look forward to building on ECCU's strength, financial performance, and exceptional member service." She shares ECCU's vision and that of its leaders – to provide quality service to members and financial products that better their lives. Her range of industry expertise will also enable ECCU to continue on its path of growth and success.
While at LMCU, Blitchok was responsible for 37 branches, the call center, and community relations. She was also part of the executive team that managed an era of tremendous growth in assets, branches, and members. "I'm privileged to bring what I've learned to ECCU so we can continue to expand and serve more people in our community. The reputation and brand of ECCU are well-known throughout our state as well as nationally."
ECCU Board Chairperson, David Aubry, adds that her extensive retail expertise, combined with previous CEO experience, will help position ECCU to leverage its community charter. "Julie's strong sense of corporate culture will build on our culture of service. Her vision of expanding retail services also fits perfectly with our strategic plan to boost the retail experience for members."
ECCU selected Blitchok from three finalists narrowed from a group of ten original candidates; she will work with staff and ECCU's collaborative approach to meet the needs of its membership. Blitchok earned her MBA from Grand Valley State and holds a BA in Economics from the University of Michigan.
"We're thrilled to have Julie join our executive team and lead the credit union," concludes Aubry. "With ECCU's commitment to its members and a workplace that is both professional and caring, it is a win-win combination for our membership and staff."
With seven convenient locations, ECCU is a full-service financial institution serving anyone who lives or works in a 21-county area in West Michigan. For details on credit union membership, visit www.eccu1.org.
About ECCU
Established in 1935, ECCU has grown from serving only Kalamazoo school employees, to serving the greater educational community, to now providing a full range of financial products and services to anyone who lives, works, worships or attends school in any of our 21 Michigan counties. The credit union exceeds $415 million in assets and serves more than 37,000 members. Visit eccu1.org to learn more about membership and why ECCU just feels right, and our members feel right at home.
---