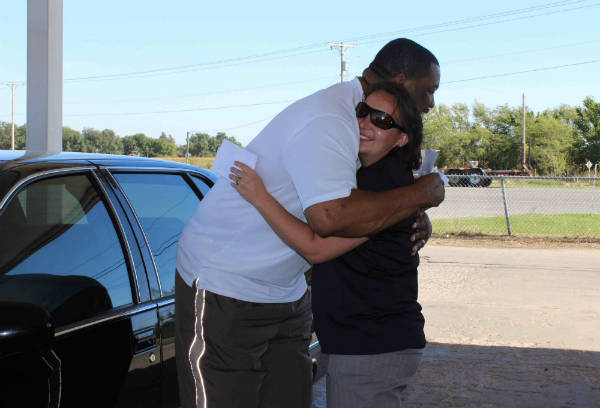 Kansas credit unions give away $23,000 in 10 locations during statewide Make a Difference event
WICHITA, KS (October 9, 2013) — $23,000. 17 Kansas credit unions. 10 Kansas locations. 1 difference.
By the end of the day, more than 900 Kansans will be on the receiving end of the latest Make a Difference event, a coordinated, statewide effort between 17 Kansas credit unions.
Credit unions surprised consumers in their communities by giving away cash, gift cards or free gas in 10 Kansas locations including Ark City, Emporia, Kansas City, Manhattan, Ness City, Norton, Topeka (2 locations) and Wichita (2 locations).
"We don't do any advance promotion for these events," said Susan Dyer, Communications Director for the Kansas Credit Union Association. "We feel our efforts have the greatest impact when it's unexpected. We just want to brighten someone's day, and hope that those on the receiving end pass it on, so it has a ripple effect in the community."
A total of $23,000 will be given away today. The events are held throughout the day, with the first event beginning at 7:30 a.m, and the last event beginning at 4:30 p.m.
This is the third event in the Kansas Credit Union Association's Make a Difference campaign.
Representatives from the participating credit unions throughout the state volunteer and coordinate their respective locations for the event. Initial consumer reactions have been positive with lots of smiles, "thank yous," a few hugs and even tears.
"These events are a great way for credit unions to put the 'people helping people' philosophy in action," said Dyer. "Credit unions exist to serve their members and support their local communities, and these events illustrate the credit union difference."
Participating credit unions included:
Ark Valley Credit Union
Central Star Credit Union
Cessna Employees Credit Union
Educational Credit Union
Emporia State Federal Credit Union
EquiShare Credit Union
Kansas State University Federal Credit Union
Mainstreet Credit Union
Medical Community Credit Union
Meritrust Credit Union
Mid American Credit Union
New Century Credit Union
Quest Credit Union
Reliance Credit Union
TECU Credit Union
United Northwest Federal Credit Union
United Credit Union
The first Make a Difference event was a gas giveaway held in October 2012. The second Make a Difference event, held in May 2013 was an "It's On Us" event where credit unions bought lunch, coffee or donuts for consumers in their community.
Each event is a surprise. The event and location are not revealed until the day of the event. People could follow the hashtag #theCUway to find out when and where the next event was happening.
The events have grown in participation. The first event included nine credit unions in six locations. The second event included eleven credit unions in 11 credit unions. This third event includes 17 credit unions in 10 locations.
ABOUT THE KANSAS CREDIT UNION ASSOCIATION
The Kansas Credit Union Association is the trade association for credit unions in Kansas, serving more than 630,000 Kansas consumers. Established in 1934, the Association's mission is to assist member credit unions in meeting the needs of their members and potential members to further the success of the credit union movement.
---