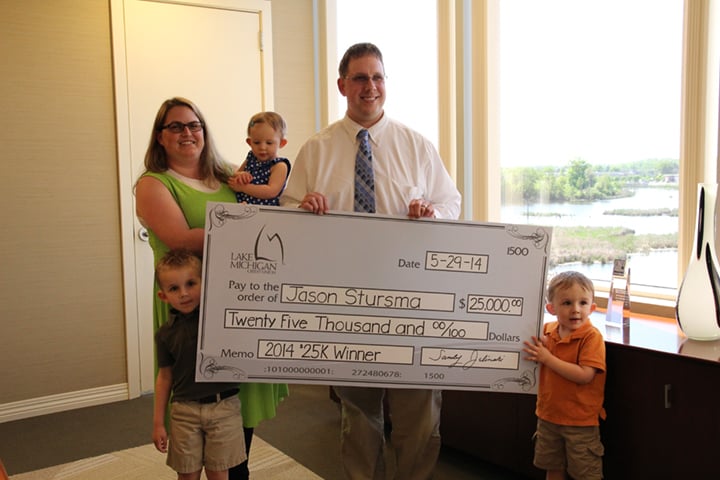 Lake Michigan Credit Union announces winner of $25,000 Home Makeover Giveaway – Jason Stursma of Hudsonville, MI
GRAND RAPIDS, MI (June 30, 2014) — Lake Michigan Credit Union (LMCU) is pleased to announce that Jason Stursma of Hudsonville, Michigan is the winner of LMCU's second $25,000 Home Makeover Giveaway, featuring spokesperson Carter Oosterhouse.
Stursma's winning entry was drawn from a pool of nearly 100,000 paper and electronic entries. Stursma was presented with a check for $25,000 on May 29 at LMCU's Glenwood Hills corporate office.
As a married father of three young children, Stursma currently works two jobs to make ends meet. Stursma said, "This is awesome! Now we can make some improvements and pay down some debt. What a blessing. Thank you LMCU!"
Stursma has mortgage and savings accounts with LMCU, and plans to deposit his winnings in a new 3% MaxChecking account.
To LMCU CEO Sandy Jelinski, presenting a check to the sweepstakes winner has become a yearly highlight. "It's great to have someone win who is so appreciative and has some specific needs. It's very heartwarming to see the winnings go to someone with the challenges of raising a young family. And of course, it's a nice plus that Jason is an LMCU member."
As in last year's sweepstakes, LMCU spokesperson Carter Oosterhouse was the public-facing lynchpin for this promotion. Oosterhouse is nationally recognized for his work on a number of cable TV programs dealing with home renovation, design and community outreach. He is a Traverse City, MI native, and a Lake Michigan Credit Union customer.
Stursma not only received a $25,000 cash prize, but also personally met with Oosterhouse at LMCU's recent Norton Shores branch grand opening event.
Digital entries were taken online at lmcu.org, with paper entries available at all LMCU branch locations. Entrants also increased their odds of winning when friends entered the giveaway through a FaceBook link.
LMCU's campaign stretched across multiple media, including television, radio, print, outdoor, point of sale (POS), internet, social networks and member communications.
Founded in 1933, Lake Michigan Credit Union is one of the largest financial institutions headquartered in Michigan. With a staff of over 800, LMCU's assets exceed $3.1 billion, with a mortgage serviced portfolio of over $4.2 billion. With over 283,000 customers, LMCU has 37 convenient branch locations – including Traverse City, Norton Shores, Farmington Hills and Troy – and nearly 100 ATMs in west Michigan, Kalamazoo and St. Joseph – plus dedicated mortgage offices in Saginaw, Livonia and Grand Blanc. LMCU provides a full-range of financial services, from high interest-bearing checking accounts to mortgages, commercial loans, insurance and investment services. To find out more, please visit www.lmcu.org. 
---