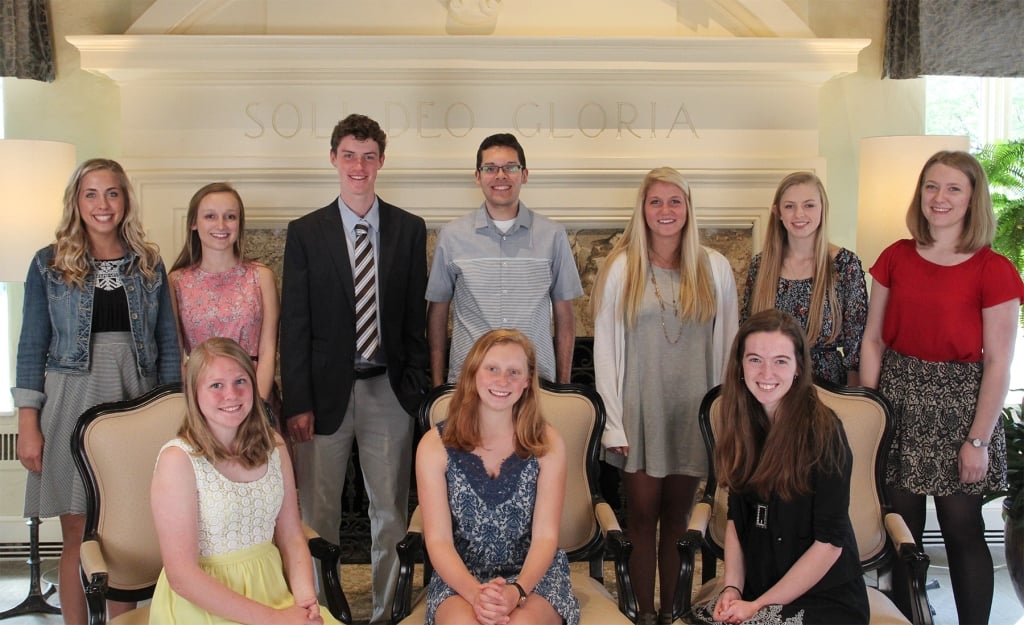 Lake Michigan Credit Union celebrates Hutt Scholarship essay contest winners
GRAND RAPIDS, MI (May 11, 2015) — Lake Michigan Credit Union (LMCU) is pleased to announce the winners of its annual Lloyd F. Hutt Scholarship essay contest. Winners were awarded their scholarship checks at a celebratory luncheon held in their honor at Cascade Country Club on May 6, 2015.
Established in 1990 by Lake Michigan Credit Union, the annual Lloyd F. Hutt Scholarship essay contest provides local high school seniors with the opportunity to win one of ten $2,000 scholarships toward the advancement of their future academic goals. Now in its 25th year, this scholarship program honors the legacy of LMCU founder Lloyd F. Hutt and his lifelong commitment to community involvement. Since its inception, the Lloyd F. Hutt Scholarship has provided $291,500 in scholarships to 187 high school seniors.
This year's essay topic was, "Twenty-five years from now, how will the world be a better place because of you?" Applicants each wrote an original 750 – 1,500 word essay exploring the topic in its entirety. Essays were evaluated with greater emphasis placed on creativity, passion, clarity and originality than mechanical or grammatical proficiency.
After receiving 359 submission entries, ten winners were selected by a panel of independent local judges.
Winners:
Collin Green, Caledonia HS
Joslyn Barr, Hudsonville HS
Emily Pool, Forest Hills Northern HS
Brittany Hayes, Rockford HS
Kyra Fitz, East Grand Rapids HS
Lauren Williams, Rockford HS
Jordan Moreau, Forest Hills Eastern HS
Leah Bectel, Hudsonville HS
Christine Dood, Forest Hills Northern HS
Keara Parker, Hudsonville HS
LMCU's Assistant Vice President of Community Relations, Matt Cook said, "We take great pride in the impact this program has in our local communities. As LMCU continues to grow, so does this scholarship program. We are proud to expand this program to ten recipients this year. We received submissions from all across the state, as well as several out of state entries as well. The quality of essays we receive amazes me every year. I give great credit to our judging panel, as narrowing the essays down to a final group of ten was a very difficult task."
Awards are paid to recipients to provide financial assistance in the pursuit of an undergraduate degree at an accredited trade school, college or university. The money may be used for tuition, fees, books, supplies and equipment.
Founded in 1933, Lake Michigan Credit Union is one of the largest financial institutions headquartered in Michigan. With a staff of nearly 900, LMCU's assets exceed $3.7 billion, with a mortgage serviced portfolio of over $4.2 billion. With over 307,000 members, LMCU has 36 convenient branch locations – including Traverse City, Fruitport Township, Farmington Hills and Troy – and nearly 100 ATMs in west Michigan and Kalamazoo – plus dedicated mortgage offices in Saginaw, Livonia and Grand Blanc. LMCU provides a full-range of financial services, from high interest-bearing checking accounts to mortgages, commercial loans, insurance and investment services. To find out more, please visit www.lmcu.org.
---