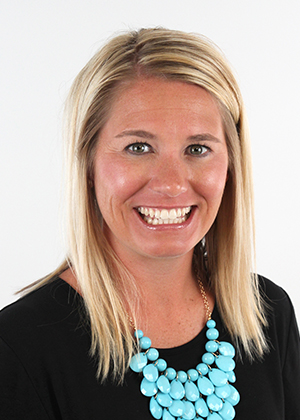 Lake Michigan Credit Union hires Emily Rose-Paul as Mortgage Loan Originator
GRAND RAPIDS, MI (July 23, 2014) — Lake Michigan Credit Union (LMCU) is pleased to announce the hiring of Emily Rose-Paul as a mortgage loan originator, and will work from its new Fruitport Township branch office.
Rose-Paul attended Baker College in pursuit of a marketing degree and worked as a real estate agent for four years in the Spring Lake area. She later transitioned into the mortgage financing sector, working as a loan originator for eight years. Rose-Paul holds Nationwide Mortgage Licensing System (NMLS) certification and was a Grand Haven Tribune People's Choice award winner for two years.
LMCU's Lakeshore Mortgage Sales Manager, Lisa DeLass, is pleased to have Rose-Paul as part of her team. "Emily will be working out of our new Fruitport-Norton Shores branch, servicing our members and real estate partners in Muskegon and Ottawa counties. She brings a great deal of enthusiasm, a broad knowledge base and proven service excellence to her role here at LMCU. I look forward to her contribution as we continue to grow the Lakeshore market."
Citing LMCU strong presence on the Lakeshore, Rose-Paul is excited to join a proven mortgage leader. "I especially appreciate LMCU's support staff. And with such a broad range of mortgage products and highly competitive pricing structure, I know I have all the tools needed to provide a first-class experience for my clients."
Rose-Paul is a member of the Spring Lake Chamber of Commerce and West Michigan Lakeshore Association of Realtors.
Founded in 1933, Lake Michigan Credit Union is one of the largest financial institutions headquartered in Michigan. With a staff of over 800, LMCU's assets exceed $3.3 billion, with a mortgage serviced portfolio of over $4.2 billion. With over 286,000 customers, LMCU has 37 convenient branch locations – including Traverse City, Fruitport Township, Farmington Hills and Troy – and nearly 100 ATMs in west Michigan, Kalamazoo and St. Joseph – plus dedicated mortgage offices in Saginaw, Livonia and Grand Blanc. LMCU provides a full-range of financial services, from high interest-bearing checking accounts to mortgages, commercial loans, insurance and investment services. To find out more, please visit www.lmcu.org.
---