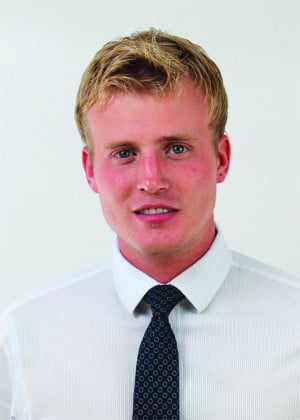 Lake Michigan Credit Union hires Mike DeVries as mortgage loan originator for Lakeshore region
GRAND RAPIDS, MI (September 24, 2013) – Lake Michigan Credit Union (LMCU) is pleased to announce the hiring of Mike DeVries as mortgage loan originator for its Lakeshore region office.
DeVries is a 2009 graduate of Hope College and earned his BA in Spanish. Up until recently, Devries was employed at Bank of America as a mortgage loan originator, and previously worked for Priceline.com as a Spanish/Portuguese booking agent.
LMCU's Lakeshore Mortgage Sales Manager, Lisa DeLass, is pleased to have DeVries' special blend of talents and abilities to draw upon. "We are thrilled to welcome Michael DeVries to our mortgage lending staff in Holland. Michael is a Holland native and Hope College graduate.  He has a good feel for the pulse of the community, and we're very excited to now offer the services of a bi-lingual lender on the Lakeshore. "
Devries is especially proud of his penchant for customer service and found LMCU to be an excellent match. "I was especially drawn to LMCU's focus on the communities it serves. With its superior blend of mortgage programs and highly competitive rates, I have all the tools needed to make a positive impact on the home ownership dreams of my neighbors. And considering how fast LMCU is growing, I see opportunity everywhere I look."
Devries is a Holland native, born and raised. He has enjoyed rolling up his sleeves for Habitat for Humanity projects and working with Holland Hospital as a translator. In his free time, Devries enjoys soccer and scuba diving.
Lake Michigan Credit Union is the largest financial institution headquartered in West Michigan, and the second largest credit union in the state. Assets exceed $2.9 billion, with over 267,000 members, 32 convenient branch locations and 92 ATMs in West Michigan, including Kalamazoo and St. Joseph, plus mortgage offices in Traverse City and Saginaw. LMCU provides a full-range of financial services, from high interest-bearing checking accounts to mortgages, commercial loans, insurance and investment services. Membership is open to anyone. To find out more, please visit www.lmcu.org.
---