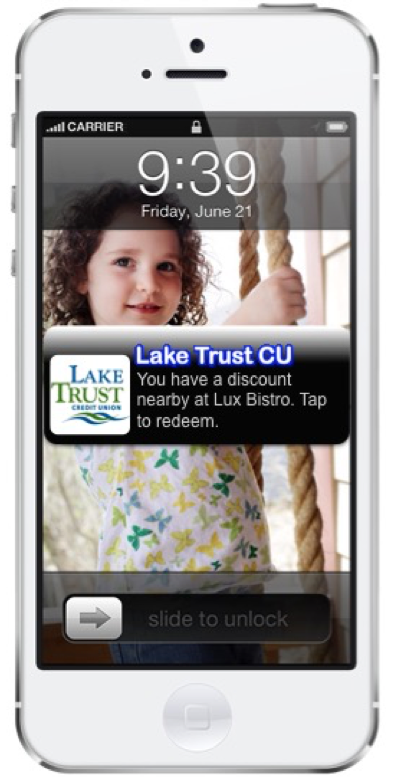 Lake Trust Credit Union launches GO, a Larky-powered mobile app
ANN ARBOR, MI (June 19, 2015) — Larky is pleased to join with Lake Trust Credit Union (Brighton, Michigan, $1.6 billion in assets) to launch "Lake Trust GO", a mobile rewards and loyalty program that provides members with compelling discounts at local merchants based on their location and other indicators of preference and relevance.
"As banking becomes more homogenous, Lake Trust recognizes the need to deliver innovative, value-added services to our members," said Danielle Brehmer, SVP, Brand, Strategy + Culture, Lake Trust Credit Union. "Our Larky-powered rewards program will produce tangible savings for members and create stronger and longer-lasting relationships that improve the health of our community-based credit union." She added, "We expect this program to boost our portfolio of commercial and retail members, and grow our share of wallet, and interchange revenue."
"We are excited to have one of Michigan's leading credit unions adopt our technology to launch a unique and compelling mobile rewards program," said Andrew Bank, Co-Founder, Larky. "Lake Trust is an innovative organization so we're pleased as pie that they've chosen Larky's mobile platform to communicate and engage with their members, local businesses and their community."
The GO local rewards program provides members with a free, simple, and fun way to receive discounts at local businesses simply by paying with their Lake Trust credit or debit card. Lake Trust members are entitled to valuable discounts at more than 220 local merchants in Brighton, Ann Arbor, Lansing, Detroit, Howell, and Grand Rapids. Larky does all the work to negotiate those discounts on behalf of Lake Trust.
The new GO mobile app sends users free alerts on their smartphones when they are physically near a local discount. Lake Trust members get instant savings at the point-of-sale. The platform can also suggest relevant products to members at the right time and place. For example, when a member drives onto a car dealer's lot, they could receive a notification about Lake Trust's auto loan rates and receive an incentive for financing through the credit union. The GO mobile app is available for iOS and Android.
Larky helps community financial institutions solve problems with:
Wallet share, loyalty, and retention. According to a 2015 World Banking Report by Capgemini & EFMA, 27.1% of customers are unlikely to purchase their next product from their primary banking institution. Larky helps banks and credit unions keep their brand top-of-mind, increasing the likelihood that clients will come to them for their next financial product.
Support for local economy. Community banks and credit unions work hard to build a strong local economy. Larky's mobile messaging platform alerts users to nearby deals, driving traffic to local merchants.
Interchange revenue. Users receive discounts when they swipe their bank or credit union's credit or debit card, increasing preference for this card.
To learn more about Larky, contact Andrew Bank at 734-531-8489 or andrew@larky.com
About Larky
Larky builds compelling member rewards programs that help credit unions boost loyalty, drive non-fee income, and support local businesses. Larky cultivates valuable point-of-sale discounts at beloved local and national merchants that help members save $1,000+ per year simply by using their existing credit/debit cards. The turnkey web and mobile platform sends users location-based alerts at the right time and place to ensure they receive their discounts. Visit larky.com to learn more, and please follow on Twitter (@getlarky) and LinkedIn.
About Lake Trust Credit Union
Lake Trust Credit Union is Michigan's fourth largest credit union with branches stretching from Lake Michigan to Lake Huron and Lake Erie. With over $1.6 billion in assets, Lake Trust provides over 170,000 members with best-in-class products and offers individualized, trust-based member service. As a community-based credit union, Lake Trust strongly believes in supporting its communities and participates annually in Komen for the Cure® in Ann Arbor and Lansing, as well as over 120 events and causes annually throughout Michigan. Membership is open to anyone within its 35-county service area. Check out Lake Trust Credit Union on Facebook and Twitter.
---