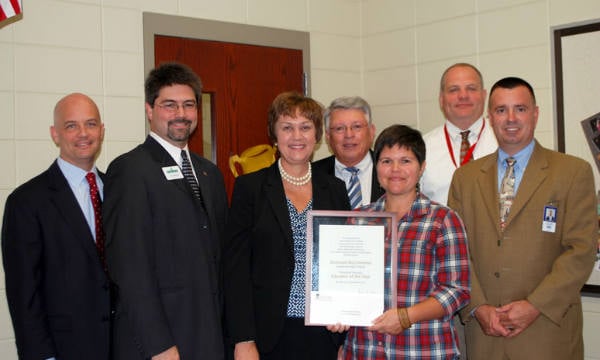 Landrum High's McCrimmon honored for financial literacy work
COLUMBIA, SC (September 19, 2013) — The South Carolina Credit Union League has named Shannon McCrimmon of Landrum High School as its 2013 Financial Literacy Educator of the Year for her work in instilling in young people the financial concepts they will need as adults. The association of not-for-profit financial institutions joined a September 13 special gathering of peers and administrators in which SCCUL presented to McCrimmon the award and a $1,000 honorarium from the Carolinas Credit Union Foundation.
McCrimmon is an author of teen novels whose creativity lends to measured risks in the name of lasting impact, and she did so in working with SC Telco Federal Credit Union (Greenville, SC), administration, and faculty to bring about two reality fairs for two different senior classes at Landrum High School. In the second, she further enlisted volunteer parents and teachers and invited teachers from other schools to witness the fair and its impact. Between these two fairs, Ms. McCrimmon reached more than 250 students and in November 2013 will reach another group of more than 250 when the entire junior and senior classes participate.
The SCCUL Financial Literacy Educator of the Year award, presented annually on behalf of 69 credit unions based in the Palmetto State, has been given since 2002 to teachers from across the state in an effort to raise awareness within the education community of not only the need for financial education but also exemplary work teachers already are doing. SCCUL also presents annually the Financial Literacy Ambassador of the Year to credit union professionals committed to advancing the cause.
---