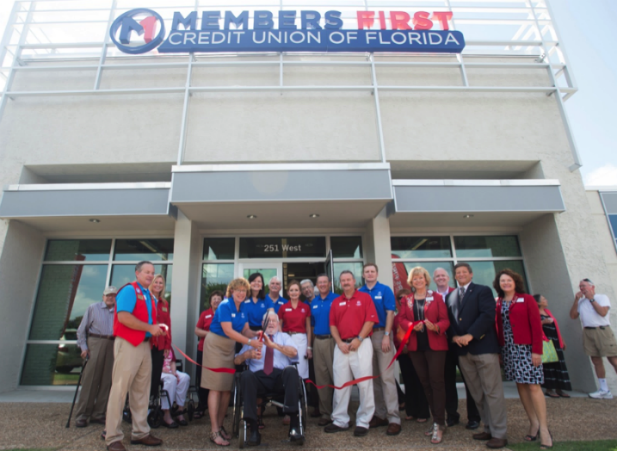 LEVEL5 celebrates opening of Members First Garden Street Branch
Credit Union Dedicates Building in Honor of John Morgan
ATLANTA, GA (September 11, 2014) — LEVEL5 recently participated in the Grand Opening of Members First Credit Union of Florida's Garden Street Branch in Pensacola, FL. Members First hired LEVEL5 to design, build and brand a former bank building that was originally built in the 1950s. Members First and LEVEL5 worked together to transform this previous eye-sore in downtown Pensacola into a beautiful branch and administrative facility for the Credit Union.
Members First dedicated the building in honor of John Morgan. Mr. Morgan served as a Director of the Credit Union for 49 years.
The new Garden Street facility contains a retail branch, drive-thru lanes, drive-thru ATM, several of the Credit Union's operations departments, and part ofits executive team. The branch is one of the first financial institutions in the Pensacola area to offer a new high touch personalized banking service to its members by eliminating the traditional teller line. Caryl Greene, President and CEO of Members First said, "LEVEL5 designed our new branch so our team will be able to greet our members at the door and provide customized personal service to each and everyone. We will no longer have to have our staff service our members from behind the barrier of a teller line."
As part of the project, LEVEL5 also refreshed the Credit Union's overall brand including a redesign of the logo and a new look and feel. "Our building is one of the most attractive in Pensacola.  Without the creativity and skill of LEVEL5, it would not have materialized into the building it is," said Mrs. Greene. Mrs. Greene went on to say, "The Company is easy to work with and continues to impress us with its depth and breadth of knowledge and experience in the Credit Union industry. LEVEL5 understands how to integrate new technology and methods of delivering banking services into the facilities it designs and builds."
About Members First Credit Union of Florida
Members First Credit Union of Florida is a full service community credit union with five branches throughout Escambia and Santa Rosa Counties. Membership is open to all who live, work or attend school in Escambia, Santa Rosa or Okaloosa Counties. For more information on Members First Credit Union, please visit www.membersfirstfl.org.
About LEVEL5
Headquartered in Atlanta, with other offices strategically located to best serve its clients, LEVEL5 is a consulting and facilities development firm that works exclusively with community-based financial institutions across the United States. For a decade LEVEL5 has assisted financial institutions in the development and implementation of growth strategies through its unique services that include consulting, real estate, integrated design, construction management and branding. For more information visit the company's website at www.level5.com.
---