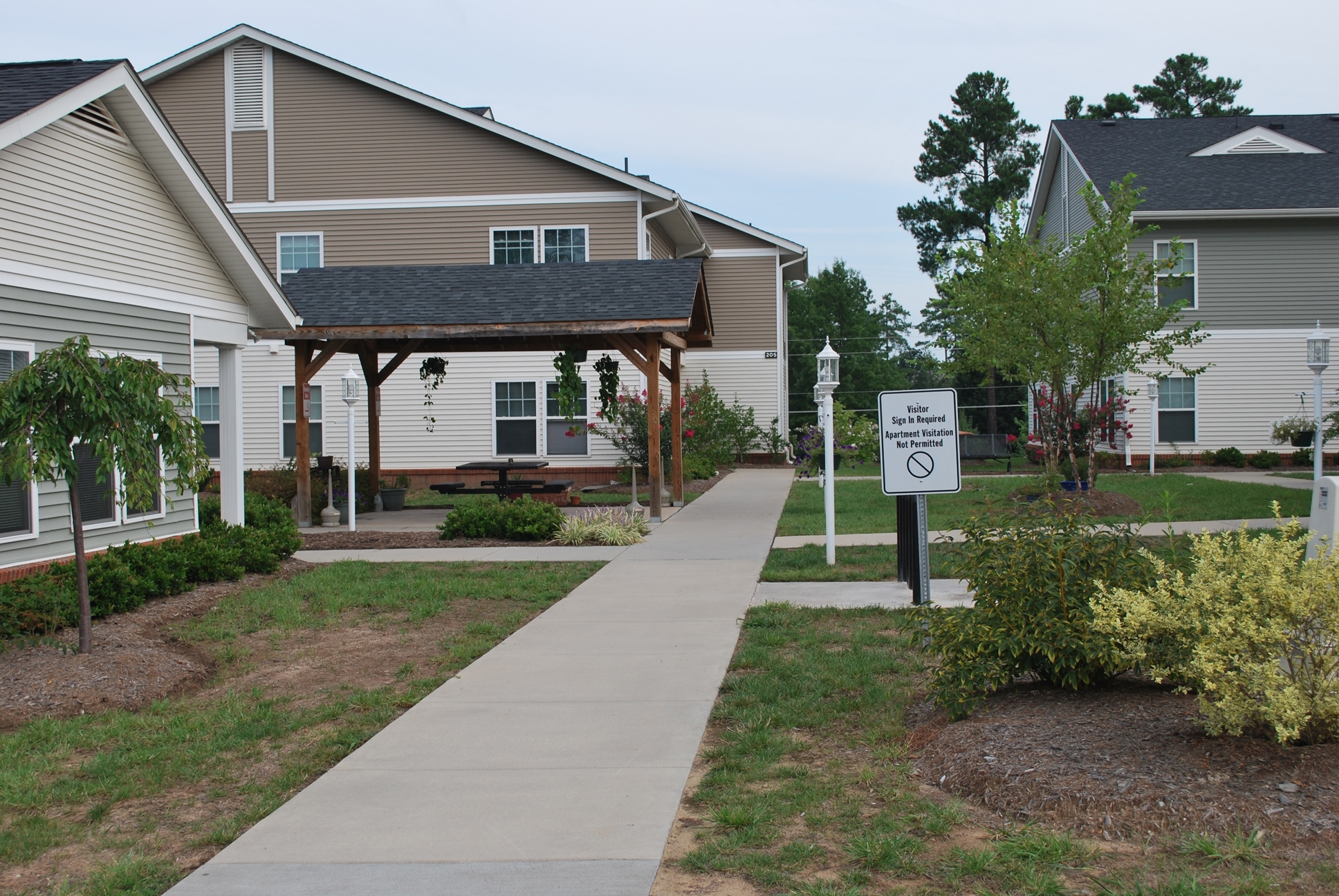 Life Changing Stories from New Mom and Veteran Helped by SECU Foundation Projects
Raleigh, NC – Stories of two individuals tell the tale of lives in the process of healing and change through the assistance of My Sister's House in Greensboro, NC and Maple Court Apartments in Durham, NC – two projects made possible through a partnership of State Employees' Credit Union members (SECU) via the SECU Foundation, and the North Carolina Housing Finance Agency (NCHFA).  My Sister's House and Maple Court Apartments are both SECU Foundation partnership projects established with the North Carolina Housing Finance Agency to provide 0% construction financing for supportive housing through local non-profit organizations.  SECU members via SECU Foundation provided a $500,000 zero percent construction loan to help build My Sister's House and provided permanent financing for the Maple Court Apartment complex.
North Carolina resident Techelle found herself and her baby in need of transitional housing as a result of domestic violence and was referred to My Sister's House.  Nineteen years old and no stranger to the violence issue, Techelle was determined that her son would not be exposed to the same emotional and physical abuse.  Accepted into the Sister's House facility a year ago, she and her son are provided with basic apartment necessities and food, but more importantly a safe and nurturing environment.  With the assistance of the facilities' live-in support coach and services such as counseling, education assistance, parenting skills and job preparation, Techelle is discovering the tools to improve her life.  She is currently working as a Personal Care Aid, with a desire to pursue her GED and further her education.  Techelle is an outgoing and energetic person, and with support from My Sister's House and partnering organizations, she looks forward to becoming self-sufficient and creating a brighter future for her family.  "It was a blessing for people to get together and build My Sister's House," remarked Techelle.  "Without the help from SECU Foundation, NCHFA and everyone involved, there wouldn't be a place for young girls with children to find the support and care needed."
Gary's story reveals the reality and challenges of what veterans may experience returning home from serving our Country.  Joining the Service right out of high school in 1978, Gary served in both the United States Army and the United States Marine Corps for a combined 18 years.  Returning home to North Carolina in 1996 was tough; family problems didn't leave room for much of a welcome home.  Faced with the challenges of adjusting to civilian life and the wounding memories of experiences in the field, Gary just couldn't make the transition on his own.  The culture shock and overwhelming feeling of emptiness led Gary to drug use and basic homelessness.  Through his desire and search for help, Maple Court Apartments became his new home — a place of shelter and support.   Today, through the many services and resources assisting with his transition, Gary is gradually gaining independence, healing, and reconnecting with society.  He is working at the Durham Veterans Administration Medical Center with Police Services, assisting patients.  Gary sees life differently now and understands he has a chance to succeed.  "It feels really good to be here at Maple Court," said Gary.  "This environment gives me the opportunity to grow, become a better member of society and to reconnect with the honor that the Service gave us, and I'm just glad I'm here."
Jim Barber, SECU Foundation Board Chair comments, "My Sister's House and Maple Court Apartment projects are wonderful examples of the Credit Union philosophy of 'People Helping People.'  It's very rewarding to know that these housing facilities are providing the care and assistance needed for Techelle and Gary to become successful individuals within their communities.  We are very proud of SECU Foundation's partnership with the North Carolina Housing Finance Agency to make these facilities available."
About SECU and the SECU Foundation
SECU is a not-for-profit financial cooperative owned by its members.  SECU has been providing the employees of the State of North Carolina and their families with consumer financial services for 75 years.  With close to 1.8 million members, SECU provides services through 245 branch offices, over 1,100 ATMs, 24/7 Contact Centers and a website, www.ncsecu.org.  The SECU Foundation, a 501c (3) charitable organization funded solely by the contributions of SECU members, promotes local community development in North Carolina primarily through high impact projects in the areas of housing, education, healthcare and human services.
About NCHFA
The North Carolina Housing Finance Agency is a self-supporting public agency.  The Agency's mission is to create affordable housing opportunities for North Carolinians whose needs are not met by the market.  Since its creation in 1973 by the General Assembly, the Agency has financed nearly 206,000 affordable homes and apartments, totaling more than $13.3 billion.  More information may be obtained through their website at www.nchfa.com.
---