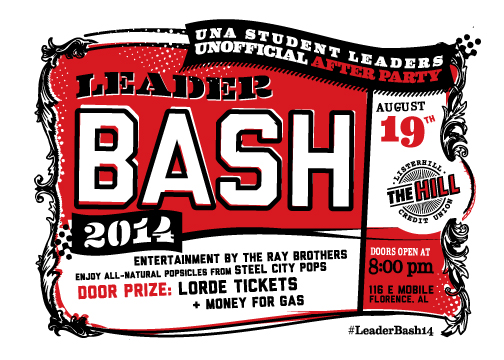 Listerhill makes back to school a 'big deal'
MUSCLE SHOALS, AL (September 26, 2014) — College students – especially incoming freshmen – have lots of decisions to make when they start Fall classes.
Typically, the choice of which financial institution to use is fairly low on their priority list. As many credit unions have discovered, it is very difficult to break through the noise of countless events, Greek rush, and newly-found independence.
According to Listerhill Vice President of Marketing Kristen Mashburn, Listerhill Credit Union takes a very detail-oriented approach with its message and its voice when speaking to college students at The University of North Alabama (UNA) – especially at a time when messages are being thrown at them in numbers resembling the volume of tweets at the Oscars.
"Listerhill wants to cut through the clutter by being visible on-campus and communicating with students in a helpful but non-pushy kind of way," said Mashburn. "Whether that is at orientation, move-in day, or at school-wide campus events, we're going to be there and add value to the event."
Beginning in June and continuing through July, Listerhill appeared at all seven of UNA's Student Orientation and Registration (SOAR) events, which hosted approximately 1,400 new students and 900 parents overall.
Listerhill also has collaborated with UNA's Mane Card to create a student ID that can be tied to their existing Listerhill debit card. During SOAR, Listerhill representatives spoke to incoming students about the benefits of this service that allows them to use their Mane Cards to make purchases off campus as well as gain entry to on-campus events through the new One Card.
"It's all about making students' lives easier through improving services they already use every day," said Listerhill Marketing Manager Chris Anderson. "When they start to see you as a partner instead of a vendor, that's when you start to reach students on a whole different level."
Listerhill next assisted UNA students by handing out "The Hill" laundry bags during move-in days August 15 and 16 and bottles of Hill-branded water during other events. The following week, Listerhill distributed over 8,000 pens to classrooms throughout its service area, which included UNA and three other colleges, and hosted a "Leader Bash" for 50 of UNA's campus leaders. The Bash included live music, dancing, and even some "local flavor" with all-natural popsicles provided by a local vendor.
"Every touch point we have with students is important, so we don't want to patronize them with the same things they've seen again and again," said Anderson. "We like to provide them with meaningful solutions for their lives while also injecting some fun into the process."
The final event of UNA's Welcome Week is The Big Deal, which is UNA's official welcome for all incoming students and is an outdoor, festival-style event featuring representatives from student organizations and vendors in addition to live performances.
Listerhill highlighted The Big Deal by hosting a car giveaway for all accountholders of The Hill. Current members who registered for the drawing or those signing up for a new account on the night of The Big Deal were eligible to win the Listerhill-red 2012 Chevrolet Cruze.
UNA student and Hill member Jade Johnson won the Chevy Cruze and was announced in front of a crowd of nearly 1,500 students.
"The Big Deal is definitely one of the most exciting events we take part in every year," said Listerhill Marketing Specialist and SET Magazine Editor Linley Mobley. "We're not just giving away a car – we're changing someone's life."
Mobley said that Listerhill's ultimate goal is to drive awareness of the financial tools young people have available to them through Listerhill and The Hill Account.
"Listerhill is much more than simply someplace to park your money", said Brad Green, President/CEO of Listerhill Credit Union. "We are a strong contributor to the University because we believe strongly in the financial literacy of its students and work toward providing timely resources to allow these young people to make the best decisions possible toward their financial future."
About Listerhill Credit Union
Listerhill Credit Union is a not-for-profit, member-owned financial institution. Founded by Shoals residents 62 years ago, Listerhill has grown to include 81,000 members, $647 million in assets and 18 branches serving northwest Alabama and south central Tennessee. For more information, please visit www.listerhill.com or call 800-239-6033.
The Hill is Listerhill's account for those 15 to 29 years old. The Hill account offers free checking with no minimum balance, a free debit card, and free mobile banking in addition to on-campus access to a student-run Listerhill branch. There is also an "Oops Refund" feature that provides accountholders refunds on insufficient funds or overdraft fees up to five times annually.
---