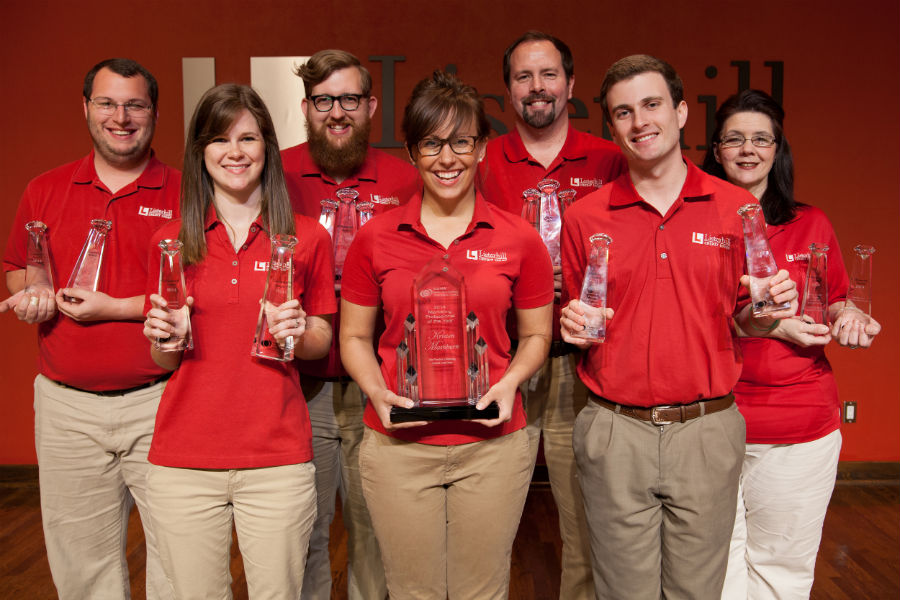 Listerhill receives industry marketing awards
MUSCLE SHOALS, AL — Listerhill Vice President of Marketing Kristen Mashburn and her team of marketers know that it's not only tough to get to the top – it's even harder to stay there.
Mashburn, who was named the Credit Union National Association's Marketing Professional of the Year for 2014 (and who was also awarded the Credit Union Times' Marketer of the Year in 2013), leads an award-winning group at Listerhill who, for the third year in a row, has garnered multiple industry marketing honors.
For the second year in a row, Listerhill was a finalist for the Marketing Association of Credit Unions' (MAC) Best in Show MACQUEE Award presentation, which was held at the association's annual conference in San Diego on May 29. In the division for credit unions with $501-999 million in assets, Listerhill walked away with seven MAC awards for Broadcast and Video, Direct Mail Series, Image Enhancement (2 awards), Market Segment Program, Outdoor, and Point of Sale.
Earlier this year, Listerhill also received a total of fourteen Diamond Awards, including three "Category's Best" designations, that were presented by the Credit Union National Association (CUNA) Marketing and Business Development Council in categories ranging from advertising to community events and beyond.
According to CUNA, this year was the most competitive ever, with more than 1,100 entries submitted across 29 categories.  All award winners were recognized at the council's 21st annual conference held March 12-14 in Orlando, Florida. Listerhill received the most Diamond Awards of any credit union at the conference.
In the division for credit unions between $500 million and $1 billion in assets, Listerhill won Diamond Awards for: Community/PR-Ongoing Event (2 awards); Community/PR-One-Time Event (2 awards); Complete Campaign; Direct Mail (Single & Series); Electronic Marketing; Member or Trade Publications; Membership Packets, Brochures, or Booklets; Mobile; Outdoor; Plastic Access Card Design; Point of Sale Display; and Television (Single &Series).  Listerhill received the Category's Best designation in each of the Community/PR-Ongoing Event, Member or Trade Publications, and Mobile categories.
"It is truly humbling that others in our industry like and appreciate what we do," said Mashburn.  "We also appreciate the trust and tools that our management team at Listerhill gives us to do our jobs effectively."
"These wins are representative of the great year we've had at Listerhill," said Brad Green, President/CEO of Listerhill Credit Union.  "As our membership grows, so does our cooperative success through the products, services, and competitive rates we are able to offer."
"Our job as marketers is to tell the members' stories, because their stories are Listerhill's story," said Mashburn.  "While awards are nice, they mean nothing unless we are able to communicate to and educate people on the benefits of credit union membership."
About Listerhill Credit Union
Listerhill Credit Union is a not-for-profit, member-owned financial institution.  Founded by Shoals residents 62 years ago, Listerhill has grown to include 80,000 members, $641 million in assets and 18 branches serving northwest Alabama and southcentral Tennessee.  For more information, please visit www.listerhill.com or call 800-239-6033.
---