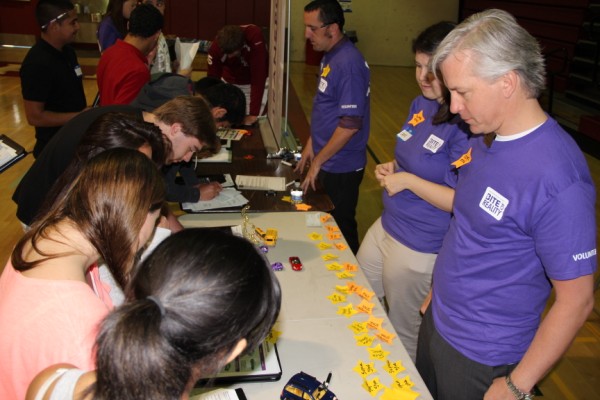 Local Teens Get a "Bite of Reality" in Money Matters
Redwood Credit Union and San Rafael Chamber Present Free Financial Education Event
SAN RAFAEL, CA – 85 local high school seniors recently attended the "Bite of Reality" financial education event at San Rafael High School, presented by Redwood Credit Union (RCU), in partnership with the San Rafael Chamber of Commerce. The event, held during National Credit Union Youth Week and National Financial Literacy Month, taught money management lessons through an interactive replication of real-world financial challenges. "Bite of Reality" is a hands-on simulation program offered by the Richard Myles Johnson (RMJ) Foundation—the state foundation for credit unions in California and Nevada— together with the California and Nevada Youth Involvement Network, which supports quality financial education for young people.
"Bite of Reality" participants were given a fictional occupation, salary, spouse and family, student loan debt, credit card debt, and medical insurance payments. The teens visited various table-top stations, hosted by local businesspeople, to "purchase" housing, transportation, food, clothing, household necessities, day care, and other needs. In addition, there was a credit union table-top to help with financial needs. While some students made modest spending choices and stuck to a budget, others experienced the unpleasant consequences of spending beyond their means after purchasing luxury vacations and sports cars, leaving them without enough to pay for their necessary living expenses. Many luxury items were returned and more realistic budgets set after students sought financial advice from the credit union table.
San Rafael Mayor Gary Phillips was also in attendance to address the students and emphasize the importance of financial education.
"It is inspiring to watch these young adults make the same type of financial decisions during the Bite of Reality that they will have to make every day as adults, and then learn from those decisions," said Lee Alderman, RCU's Assistant Vice President of Training & Financial Literacy.
"This interactive activity gives teens a hands-on opportunity to experience making financial decisions, and a better understanding of the challenges of living on a budget," said Tena Lozano, executive director of the RMJ Foundation, who also attended the event.
RCU offers a wealth of financial education resources on their website at www.redwoodcu.org, including budgeting tools, financial tips for all stages of life, podcasts and other helpful resources. The Credit Union plans to host additional "Bite of Reality" events in other Marin and Sonoma County communities in the coming months.
About Redwood Credit Union
Founded in 1950, Redwood Credit Union is a full-service financial cooperative providing personal and business banking to anyone living or working in the North Bay or San Francisco. RCU offers complete financial services including checking and savings accounts, auto and home loans, credit cards, online and mobile banking, business services, commercial and SBA lending, investment and financial planning services and more. The Credit Union also offers a variety of insurance products and discount auto sales through their wholly-owned subsidiary. RCU currently has more than $2.1 billion in assets and serves 225,000 Members with 18 full-service branch locations, including branches in San Rafael and Novato. For more information, please call 1 (800) 479-7928 or visit www.redwoodcu.org.
---