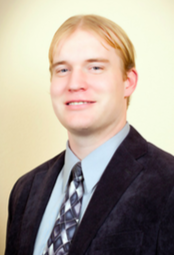 Lower Valley Credit Union's Josh Beck promoted to EVP/CFO
Beck will officially begin his tenure as Lower Valley Credit Union's Executive Vice President and Chief Financial Officer on Jan. 1, 2015.
SUNNYSIDE, WA (DECEMBER 19, 2014) — Lower Valley Credit Union (LVCU) President and CEO Suzy Fonseca announced today the "long-anticipated" and "well-deserved" promotion of Josh Beck to the position of Executive Vice President and Chief Financial Officer, effective Jan. 1, 2015.
"From leading the accounting department to managing ongoing regulatory compliance, seeking grant opportunities to partnership development, ongoing training, and the spearheading of a very successful, community-focused citizenship workshop, Josh is an integral part of all we're doing here at LVCU," Fonseca said.
Beck officially joined the credit union in January of 2012, and has since served in multiple capacities, including as a Compliance and Training Specialist, a Risk Management Officer, and – most recently – as Finance VP within the Executive Management Team. He earned his Credit Union National Association (CUNA) certification as a Credit Union Compliance Expert (CUCE), and is currently enrolled in the association's prestigious Western CUNA Management School, as well as its Financial Management Program, and Advanced Investing and ALM Program.
"Being provided with an opportunity to serve Lower Valley Credit Union and our membership in a greater capacity as EVP/CFO is an extremely exciting prospect. It would be impossible for me to overstate how much I enjoy working with my fellow staff members, within the Lower Yakima Valley communities where I was raised, and in providing opportunities to our deserving membership. I look forward to the future of our credit union as there are literally limitless possibilities in expanding the services, financial education, and unique one-on-one relationships LVCU provides to those in the communities we serve."
Beck is currently a member of LVCU's Loan Review Committee, Asset Liability Committee, Investment Committee, and serves as a primary resource to the Supervisory Committee, and as a liaison to auditors and examiners. He is a member of CUNA's CFO Council and the Credit Union Economics Group. A Yakima valley native and active Rotarian, he will serve as president of the Sunnyside Rotary during the 2015-2016 year.
"I am certain everyone at LVCU can recall a time when we've asked Josh to collaborate, assist, share insight, or train in various aspects of our daily lives," Fonseca concluded. "His energy and commitment to serving and empowering those around him have, without a doubt, been felt throughout our entire organization."
About Lower Valley Credit Union
Lower Valley Credit Union is an $85 million, Low Income Designated, CDFI certified credit union deeply rooted in Washington State's Lower Yakima Valley. Founded in 1958 and headquartered in Sunnyside, the credit union also operates branches in Prosser and Grandview. LVCU is dedicated to serving the needs of its community and growing membership of over 10,000 strong through following its vision of 'Planting Seeds of Opportunity for a Better Tomorrow'. 
---