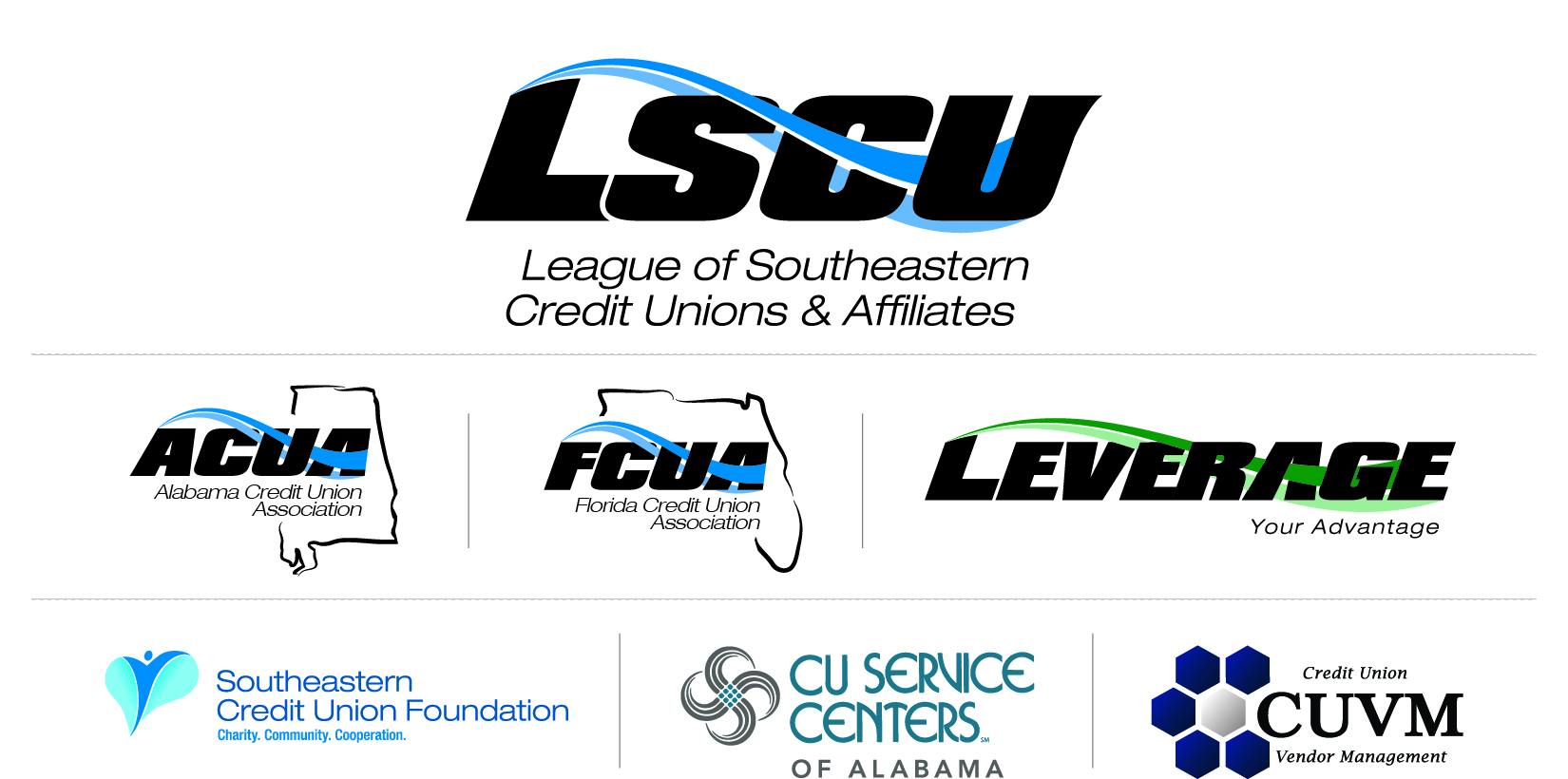 LSCU & Affiliates Refresh Brand for Greater Advocacy in State Capitals
BIRMINGHAM, AL/TALLAHASSEE, FL (July 8, 2013) The League of Southeastern Credit Unions and Affiliates (LSCU) are refreshing their brand architecture. The "LSCU & Affiliates" is the parent brand for the league and its subsidiary organizations – The LSCU Service Corporation (LEVERAGE) and the Southeastern Credit Union Foundation. This will also apply to any other organization either fully owned or managed by the LSCU – Credit Union Service Centers of Alabama (CUSC) and Credit Union Vendor Management (CUVM).
Two new brands are being added to the structure to enhance the awareness and influence of credit unions in Montgomery, Tallahassee and Washington, D.C. The LSCU will begin using the Alabama Credit Union Association (ACUA) and Florida Credit Union Association (FCUA) brands with lawmakers, candidates and regulators for a greater state-specific identity and recognition.
"As the LSCU & Affiliates grows, it's important that we constantly look at our brand positioning to ensure that it's also evolving," said LSCU & Affiliates President/CEO Patrick La Pine. "State-specific 'association' resonates much better with lawmakers and candidates. All politics is local.
"Going forward, if other state leagues are interested in consolidating, this new brand positioning demonstrates our commitment for maintaining state-specific brand identity which we know is becoming an important issue for some."
The LEVERAGE brand also received a slight makeover. LEVERAGE is selling more products and services in other states, so it makes sense to look at removing the current LSCU Service Corporation tagline from the LEVERAGE logo. A new tagline was developed that is not state/league specific, but shows more of what LEVERAGE means to its clients across the country. LEVERAGE, "Your Advantage," lets credit unions know that working with LEVERAGE gives them an advantage over their competition. Overall, the brand refresh is subtle.
"For Alabama and Florida credit unions, the LSCU & Affiliates will be our main brand and nothing significant will change. The ACUA and FCUA brand will be laser focused on advocacy efforts only," said La Pine.
The LSCU & Affiliates plans to launch the refreshed brand on August 1, 2013.
The League of Southeastern Credit Unions represents 285 credit unions in Alabama and Florida with a combined total of $64 billion in assets and more than 6.5 million members. LSCU provides advocacy and regulatory information; education and training; cooperative initiatives (including financial education outreach); media relations and information; and business solutions. For more information, visit www.lscu.coop. Follow the League on Twitter or Facebook.
---