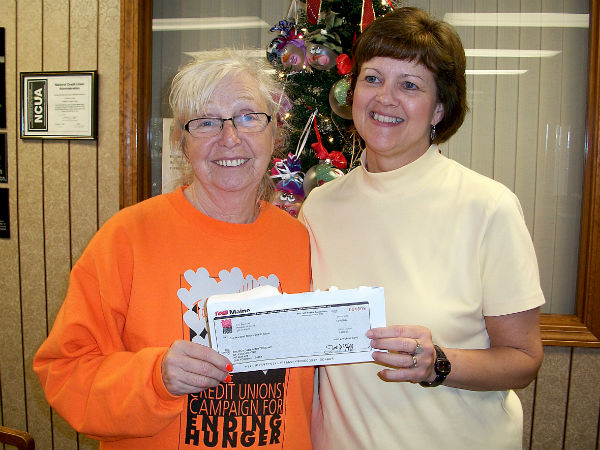 Maine Credit Union League's Ending Hunger Walking Tour makes first of three stops at Maine Savings
MILO, ME (December 1, 2014) — The 13th Annual Maine Credit Union League's Ending Hunger Walking Tour stopped at the Maine Savings North Vassalboro branch on November 21, the first of three Maine Savings branches included in the tour.
The Ending Hunger Walking Tour, hosted by the Maine Credit Union League, began in 2002 in an effort to raise funds and awareness to end hunger in Maine. The tour, which began on October 24 in Augusta, is a collaboration with Maine's credit unions and Crossroads, a hunger organization based in eastern Maine.
In addition to funds raised for Crossroads, a $113 donation will be made to a local food pantry in each of the 83 communities this year's tour will visit. Since its beginning, the campaign has distributed more than $5.3 million to different organizations in Maine.
The tour passed through the Maine Savings branch in Milo, Maine, on November 25 and the Maine Savings Jackson Laboratory branch in Bar Harbor, Maine, on December 1 before concluding on December 3.
About Maine Savings:
Maine Savings is a modern financial institution with state-of-the-art technology offering members a full range of financial services, including RedWallet Checking. With more than 26,000 members, 10 branches and nearly 100 employees, Maine Savings is among Maine's largest credit unions. Maine Savings is committed to providing in-person services paired with modern conveniences. Branches are located in Bangor, Bar Harbor (Jackson Laboratory), Brewer, Corinth, Ellsworth, Hampden, Milo, North Vassalboro and Old Town. Founded in 1961 by employees of the Bangor and Aroostook Railroad Company, Maine Savings continues to serve its membership as a federally insured not-for-profit credit union.
---