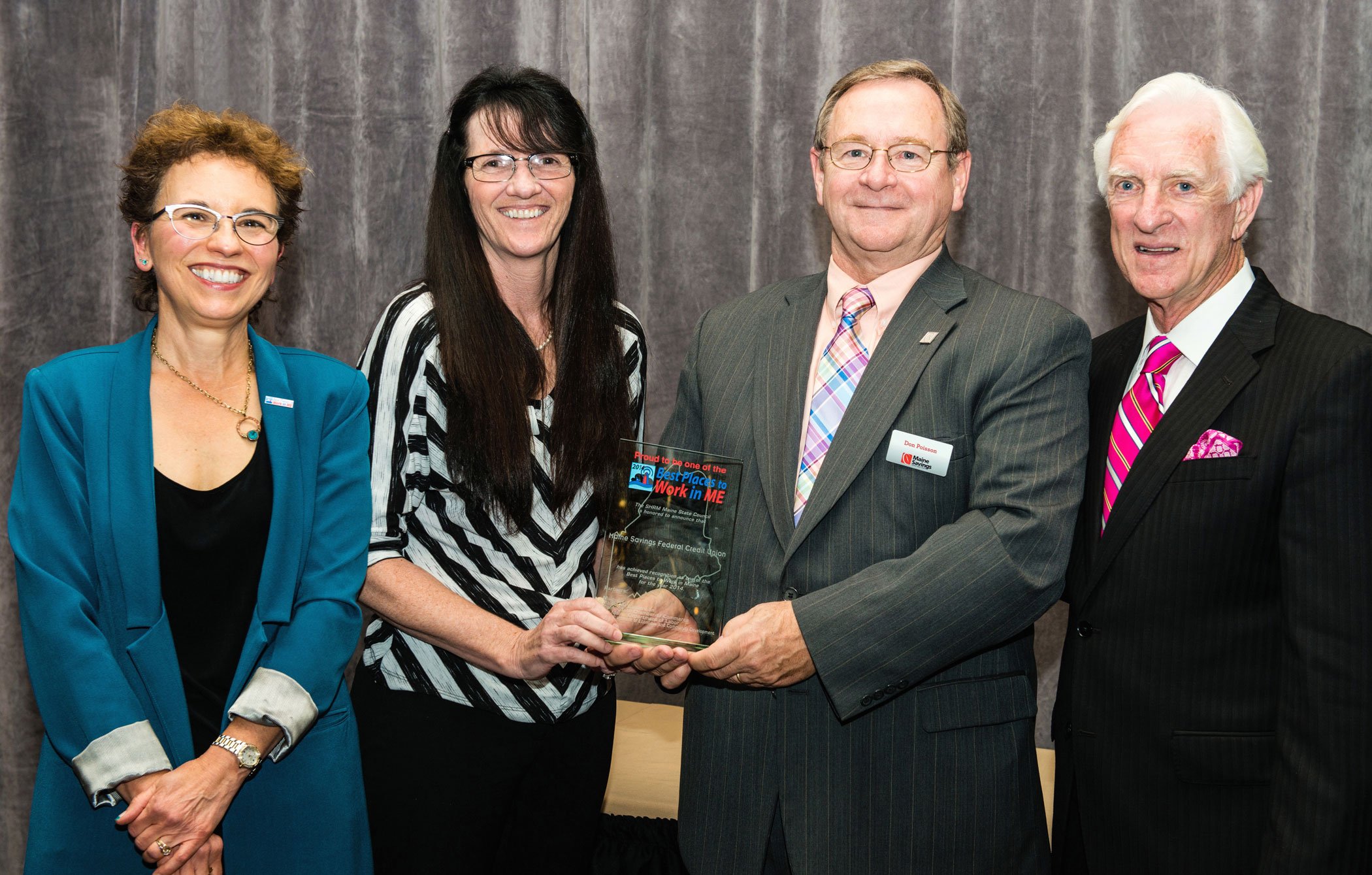 Maine Savings lands sixth consecutive spot on 'Best Places to Work in Maine' list
HAMPDEN, ME (October 28, 2014) — Maine Savings Federal Credit Union was recently named one of the Best Places to Work in Maine for the sixth year in a row.
The award comes as the credit union continues to grow and expand, with a new branch opening in Old Town this summer and property purchased for future expansion in South Portland. Maine Savings also added seven new staff members this year to support the growth.
"At Maine Savings, we know our members will only have a great experience if our staff loves coming to work each day," said John Reed, President and CEO of Maine Savings. "We work hard to make Maine Savings a place that both our members and our staff feel great about."
From right to left: Deborah Whitworth, SHRM Maine Deb Whalen; AVP Branch Operations, Maine Savings; Don Poisson, Vice President of Member Services, Maine Savings; Dana Conners from Maine State Chamber
About Maine Savings:
Maine Savings is a modern financial institution with state-of-the-art technology offering members a full range of financial services, including RedWallet Checking. With more than 26,000 members, 10 branches and nearly 100 employees, Maine Savings is among Maine's largest credit unions. Maine Savings is committed to providing in-person services paired with modern conveniences. Branches are located in Bangor, Bar Harbor (Jackson Laboratory), Brewer, Corinth, Ellsworth, Hampden, Milo, North Vassalboro and Old Town. Founded in 1961 by employees of the Bangor and Aroostook Railroad Company, Maine Savings continues to serve its membership as a federally insured not-for-profit credit union.
---