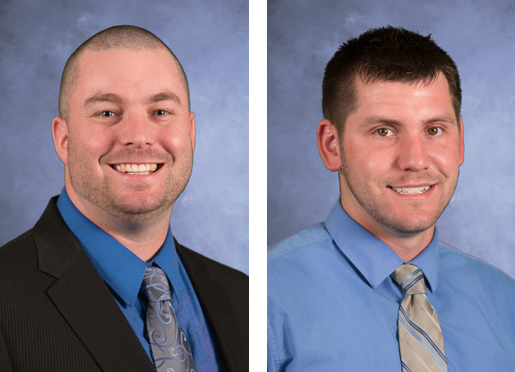 Maine Savings welcomes seven new employees
BANGOR, ME (October 24, 2014) — Maine Savings recently welcomed seven new employees in its branches on Broadway in Bangor and in Hampden, as well its member service center in the Hampden administrative offices.
Shawn Sutherland and Ryan Johnson both joined as member service representatives and loan officers at the Broadway branch in Bangor. In this role, they will be responsible for handling new memberships, account openings and consumer loans. Sutherland, of Eddington, Maine, earned a Bachelor of Science in physical education from the University of Maine. Johnson, of Hermon, Maine, is a Bangor Region Leadership Institute graduate, a State of Maine Notary Public, certified in Consumer and Mortgage Lending, and holds his State of Maine Producers License.
"We've seen strong growth and have promoted several other staff members, and that has left us with the need to hire some new additional talent. We are confident these professionals will help us continue to provide our members with extraordinary service and support our organization's continued growth," said John Reed, CEO and President of Maine Savings.
Ashley Cooper, of Winterport, Maine, and Kayla Grindle, of Corinth, Maine, joined the credit union as special agents in the member service center in Hampden. In this capacity, Cooper and Grindle will join the team responsible for taking care of members' needs on the first call. This includes providing information on products and services, reviewing transactions, and connecting a member to the best suited loan officer for that member's specific needs.
Julie Shaw, of Westfield, Maine, and Hunter Harrison, of Bangor, joined the Broadway branch in Bangor as tellers. Maine Savings also welcomed Brett Speed, of Westfield, as a teller at its Hampden location.
About Maine Savings
Maine Savings is a growing modern financial institution offering members a full range of financial services. With more than 26,000 members and nearly $300,000,000 in assets, Maine Savings is among Maine's largest credit unions. With 10 branches, nearly 100 employees, and state-of-the-art technology, Maine Savings is committed to providing its members in-person service and modern conveniences. Founded in 1961 by employees of the Bangor and Aroostook Railroad Company, Maine Savings continues to serve its membership as a federally insured not-for-profit credit union. www.mainesavings.com
---