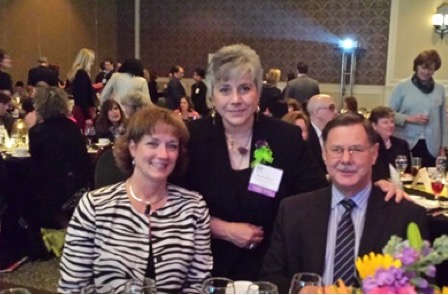 Margaret Delmonico recognized as 2015 YWCA Woman of Excellence
HARRISBURG, PA (March 27, 2015) — PSECU is proud to announce that Margaret Delmonico, Director of Public Relations, has been chosen as one of the YWCA's 2015 Women of Excellence. Margaret was among 25 women honored at the YWCA's 26th Annual Tribute to Women of Excellence in March.
The YWCA Tribute to Women of Excellence honors women who are dedicated to making a difference in the Central Pennsylvania community. Margaret exemplifies this through her firm commitment to improving the quality of life for all members of the greater Harrisburg community and beyond. Barb Bowker, VP of Marketing for PSECU and a 2014 Woman of Excellence, shares that, "Margaret's commitment to serving the community helps PSECU embrace the credit union philosophy of 'people helping people.' We are proud to have her on our team."
As Director of Public Relations for PSECU, Margaret oversees community relations and sponsorships, media relations, financial literacy, scholarships, and Corporate Social Responsibility, in addition to other special projects. She has over 35 years of service with PSECU and is dedicated to doing "good" on behalf of a good company.
Margaret manages PSECU's relationships with over 20 non-profit organizations. Outside of the requirements of her role at PSECU, Margaret serves on the Board of Directors of the Central Pennsylvania Food Bank as the Chair of the Communications and Marketing Committee. She also sits on the Board of Leadership Harrisburg Area and is the Chair of the Resource Committee. Additionally, Margaret represents PSECU at the Rotary Club of Harrisburg and serves on both the Resource Development Committee and Water Initiatives Committee. ­­­
Opened in 1934, PSECU was founded by 22 ordinary people who made an extraordinary commitment to each other: To create a financial institution where pooled resources benefit all members. Today, we are a full-service credit union serving more than 400­­­,000 members and have over $4 billion in assets. As a not-for-profit financial institution, our goal remains to help our members and their families achieve a better life.
Photo caption: Margaret Delmonico (center), 2015 Woman of Excellence and PSECU Director of Public Relations, poses with Barb Bowker, 2014 Woman of Excellence and PSECU VP of Marketing, and Greg Smith, PSECU President/CEO at the YWCA Tribute to Women of Excellence Reception.
This credit union is federally insured by the National Credit Union Administration.
Equal Opportunity Lender.
---