Mastercard Executive Chairman Ajay Banga, to be recognized for his social activism during the 2022 International Peace Honors
He will receive the honor for his outstanding contributions in creating a more equitable and sustainable digital economy, committing to ensuring access for 1 billion people across the world.
NW, WASHINGTON, D.C (November 10, 2021) — PeaceTech Lab, the award-winning non-profit organization founded by the United States Institute of Peace, announced Ajay Banga, executive chairman of the board for Mastercard, as one of its distinguished honorees during the 2022 International Peace Honors, to be held in January 2022.
Banga has proven that it's possible not only to lead a successful company but to also make a meaningful difference in the world while doing so. His recognition that financial inclusion can ignite a virtuous cycle of equitable economic growth has resulted in half a billion underserved people gaining access to financial systems, providing the opportunity to prosper. Banga has embedded a focus on inclusion into the DNA of the company, while also working across the public and private sectors to leverage Mastercard technology and expertise to help address broader societal issues including poverty, hunger, and gender equality.
"The pandemic has shown us that our lives are deeply interconnected. Where people have access to opportunity, they can thrive. And when people thrive, communities, countries and businesses can thrive. It is our job to use our technology, tools and ingenuity to help others by removing barriers because at the end of the day, it helps us all. I applaud PeaceTech Lab and my fellow honorees for their work leveling the playing field and setting the stage for a more equitable future," said Ajay Banga, Mastercard Executive Chair.
Ajay's career accomplishments include achievements, honors and partnerships across the social and business spheres. On matters of trade, commerce and international business he is a trusted voice whose expertise has been enlisted by the International Chamber of Commerce, the U.S Council for International Business and by the U.S. Government where he was appointed to the President's Advisory Committee for Trade Policy and Negotiations under President Obama and currently sits on the Partnership for Central America, invited by Vice President Harris.
"Meaningful change requires strong leadership and Ajay Banga has been at the helm of some world-changing initiatives. Working in communities around the world to promote greater prosperity and peace, we at the Lab see every day the paramount importance of the financial and technological inclusivity Ajay has stood for. He is truly a visionary and an exemplary recipient for this 2022 International Peace Honor," remarked Sheldon Himelfarb, President and CEO of PeaceTech Lab.
Banga has created sustaining means of ensuring financial inclusion remains at the forefront both internally at Mastercard where he established the Mastercard Center for Inclusive Growth to serve as the organization's philanthropic incubator, as well as through external partnerships including work with the Bill and Melinda Gates Foundation to create the Mastercard Lab for Financial Inclusion. And he's progressed work across the globe to ensure access and opportunity for all by mapping out ambitious initiatives to bring one billion people and 50 million small businesses into the digital economy and introducing efforts to progress environmental sustainability.
The International Peace Honors celebrates the most outstanding global leaders and change-agents of our time who make philanthropy and humanitarian service a hallmark of their lives, to advance humanity and our planet. As 2022 Honoree, Ajay Banga joins actor, director and activist Forest Whitaker; and the author of 'Humans of New York', Brandon Stanton. The remaining honorees will be announced in the coming weeks.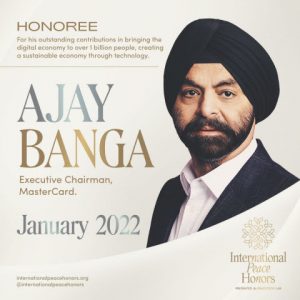 ---
About PeaceTech Lab
"PeaceTech Lab an award-winning international nonprofit established by the United States Institute of Peace"