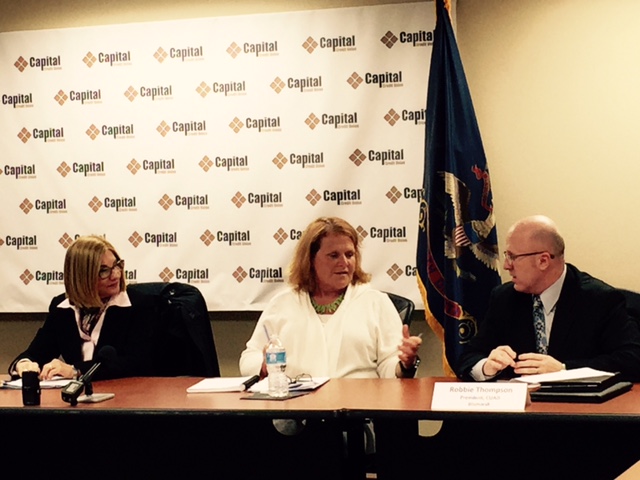 Matz and Heitkamp visit credit unions in Bismarck, ND
BISMARCK, ND (April 9, 2015) — Credit union leaders from across the Dakotas convened in Bismarck, ND yesterday to engage in dialogue with U.S. Senator Heidi Heitkamp (D-ND) and Debbie Matz, Chairman of the National Credit Union Administration (NCUA). The visit was an opportunity for credit union professionals to personally visit and discuss issues that are directly impacting credit unions in the Dakotas. The event was organized cooperatively between the Senator's office and the Credit Union Association of the Dakotas (CUAD).
Prior to the open forum meeting, Chairman Matz and members of her staff, including Keith Morton, Region 4 Director from Austin, TX, visited Railway Credit Union in Mandan and VUE Community Credit Union in Bismarck to greet staff and meet with members. They also took time to hear directly from staff from both credit unions on challenges they have had in recent years in serving their members. The visits resulted in positive experiences for these institutions.
"It was an honor and pleasure to host the Chairman and her officers at our credit union.  We found them to be open, honest, and willing to have serious dialogue on some items that would allow us to better serve our members," said Paul Brucker, President/CEO Railway Credit Union. "We appreciate Senator Heitkamp and the Credit Union Association of the Dakotas for having the foresight to put this event together on behalf of our credit unions and members," he added.
The "round table" dialogue drew nearly 40 credit union leaders from across North Dakota and several from neighboring South Dakota. The event was moderated by Senator Heidi Heitkamp, who serves on the Senate Banking committee. Credit Union leaders indicated that new regulations stemming from the Dodd-Frank Wall Street Reform legislation passed by Congress in 2010 have produced burdensome operational complexities for their institutions, which has hampered their ability to effectively serve their members. Rather than protecting consumers, credit unions and small financial institutions are being held to the same standards as larger institutions. Senator Heitkamp shared that sentiment in her opening remarks by stating that the "too big to fail policy and new rules that were meant to prevent bad lending practices and protect consumers has un-intentionally meant that smaller institutions are almost too small to succeed."
While credit union lending in North Dakota is at a higher rate than some other financial institutions, industry leaders took the opportunity to share their concerns with the nation's credit union administrator that certain loans are difficult to make and are burdened by on-going regulations and new rules. In the state's north western corridor, where the explosion of oil and gas production is on-going, available and affordable housing continues to be an issue.
Darrell Olson, President/CEO of Town and Country Credit Union, Minot, used the platform to share that his credit union has discontinued making manufactured home loans due to the new rules, specifically on the new requirements to carry escrow accounts on mobile home loans. He indicated that his credit union could have been a "much bigger player in that market, filling a much needed void in that area."   The un-intended consequences of "one-size fits all" rule writing was articulated by Tyler Neether, also of Town and Country Credit Union, who said that "it takes those members they think (policymakers) they are protecting and denies them access to any lending at all."
In Williston, which is the epicenter of the oil production in the western part of the state and home to Western Cooperative Credit Union, there are no other lending alternatives for consumers to go to for manufactured home loans. Melanie Stillwell, President/CEO of Western Cooperative said that "many customers are forced to get those types of loans through mobile home dealers, which are unregulated."
Perhaps the best example of the regulatory issues in mortgage lending was presented by Dan Wagner from Lisbon Farmers Union Credit Union who shared that "making an $80,000 SUV loan is easier than making a mortgage loan for an $80,000 home loan in rural North Dakota".
Chairman Matz and her staff indicated that the agency is doing many things to provide some regulatory relief for credit unions this year, specifically in the area of member business lending rules by removing caps on commercial loans. Many Dakota credit unions are challenged by a lending cap on business/commercial loans of 12.5 percent of their assets, preventing them from providing a much needed product to their members and communities, especially in the oil impacted region where credit unions are unable to fund apartment building projects.
Chairman Matz also used the open dialogue meeting to share the agencies a five-point objective to strengthen and help credit unions better serve their members over the next couple of months.
Adding Supplemental Capital
Expanding Fields of Membership
Removing the fixed Asset limit caps at 5%
Permit asset securitization
Eliminating the underwriter requirements on Home mortgage originations.
"This is terrific and unique opportunity for our credit unions to have direct dialogue and discussion with a key member of the Senate Banking committee and our chief credit union administrator," said Robbie Thompson, President/CEO Credit Union Association of the Dakotas. "Our members did a great job telling their stories and articulated industry concerns about how regulatory and legislative issues have had unintended consequences on how they serve their members. More importantly, I think the end result of the dialogue with Senator Heitkamp and Chairman Matz gave our members a positive outlook of our industry and what they do for their members every day. We sincerely appreciate Senator Heitkamp's efforts in engaging our members and arranging this personal meeting with Chairman Matz and key members of the NCUA staff," concluded Thompson.
Headquartered in Bismarck, ND, the Credit Union Association of the Dakotas (CUAD) is the professional financial trade association serving 68 credit unions in North and South Dakota with assets in excess of $5.5 billion and serving over 450,000 credit union members. For more information about CUAD visit our website at www.cuad.coop.
---