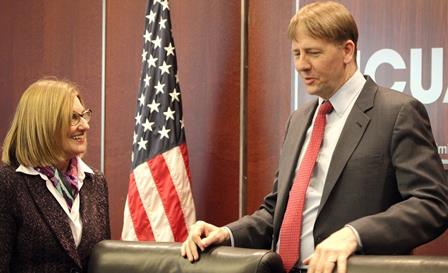 NCUA's Matz to host CFPB's Cordray at Town Hall webinar
Register Now to Join an In-Depth Discussion of NCUA, CFPB Regulatory Issues
ALEXANDRIA, VA (January 14, 2015) —
 National Credit Union Administration Board Chairman Debbie Matz will host her fourth town hall webinar with Richard Cordray, Director of the Consumer Financial Protection Bureau, on Tuesday, Feb. 10, beginning at 3 p.m. Eastern."My joint webinar with CFPB Director Cordray has become an annual event, and our conversations with credit union officials are always informative," Matz said. "This webinar gives credit union leaders and compliance officials the opportunity to communicate directly with regulators and get answers to important questions. I encourage anyone who is interested in consumer and credit union regulations to join us."
Online registration for the webinar is now open and available here. Participants will use this same link to log into the webinar, and they should allow pop-ups from this website.
During the webinar, participants will be able to submit questions and receive answers about any topic relating to the credit union system or the work of CFPB. Participants also can submit advance questions at WebinarQuestions@ncua.gov. The subject line of the email should read, "NCUA-CFPB Town Hall."
For technical questions about accessing the free webinar, please send an email to audience.support@on24.com.
NCUA is the independent federal agency created by the U.S. Congress to regulate, charter and supervise federal credit unions. With the backing of the full faith and credit of the United States, NCUA operates and manages the National Credit Union Share Insurance Fund, insuring the deposits of more than 98 million account holders in all federal credit unions and the overwhelming majority of state-chartered credit unions. At MyCreditUnion.gov and Pocket Cents, NCUA also educates the public on consumer protection and financial literacy issues.
---