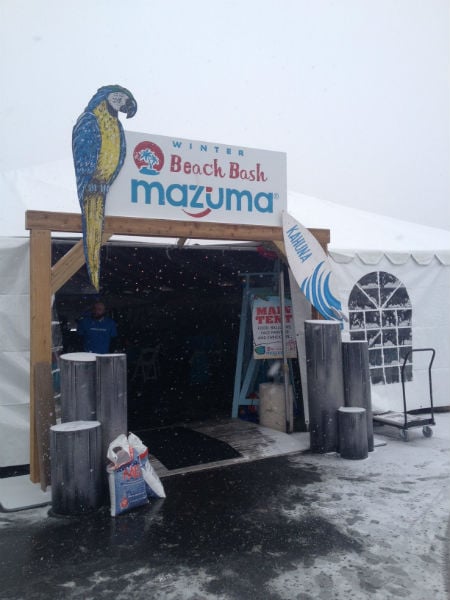 Mazuma Credit Union celebrates opening of new HQ with Beach Bash during snowstorm
KANSAS CITY, MO (February 28, 2015) — Mazuma Credit Union recently celebrated the opening of its new Overland Park Headquarters and branch with a ribbon cutting on February 27th and a Winter Beach Bash on February 28th. Over a thousand people showed up to the Beach Bash despite a snowstorm.
The Grand Opening celebrations kicked off on February 27th with a ribbon cutting featuring Mazuma President and CEO Brandon Michaels along with members of the Mazuma Board of Directors and participants from the Overland Park Chamber of Commerce.
"We feel like Overland Park has welcomed us with open arms," Michaels said. "We're thrilled to be here and excited to make an impact in the community."
The big party took place on Saturday, February 28th with the Mazuma Winter Beach Bash. A heated tent was put up in the parking lot to house the food vendors, including Overland Park favorites Pig & Finch, Nick and Jake's, and Gordon Biersch; Kansas City institution Goodcents; along with Pie Five, Chick-fil-A, Smoothie King, Fuzzy's Taco Shop, and Sam's Club. Inside, local band the Zeroes soundtracked the party, while local artist Ken Stanley put the finishing touches on a mural in the Community Room. There were also face painters, a caricature artist, balloon artist, and circus duo – including a fire eater – on hand.
Befitting the theme, there was snow – about two inches of snow fell during the course of the party. Despite the inclement weather conditions, over one thousand people came to celebrate the grand opening and enjoy themselves. Check out the attached pictures to get a sense of the festivities.
Mazuma is grateful to its partners, especially Level5, Praxis3 and Sky Design. They've helped turn a daydream into reality; Mazuma can't be more thrilled to share it with Kansas City.
Established in 1948, Mazuma serves more than 53,500 Members and has nearly $500 million in assets. Still reading? We're flattered! Mazuma is open to membership for those living or working in Cass, Clay and Jackson Counties in Missouri, and Johnson and Wyandotte Counties in Kansas. If you want more information, please visit Mazuma's website at mazuma.org for more information, or contact Kim Funari at kimberly.funari@mazuma.org.
---