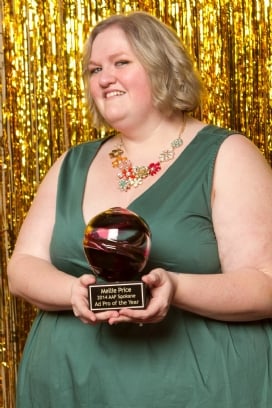 Mellie Price wins the American Advertising Federation Spokane, Advertising Professional of the Year
SPOKANE, WA (April 17, 2015) — Global Credit Union is proud to announce that Mellie Price has won the American Advertising Federation Spokane, Advertising Professional of the Year.  She was recognized on March 21, 2015 during Spokane's annual American Advertising Awards (ADDYs).
AFF Spokane recognizes one person as the Advertising Professional of the Year.  For nearly sixty years, this award has recognized ad professionals for their contributions to the advertising industry and their position in the Spokane business community.  Mellie is the youngest person to ever be honored and only the 10th women to be awarded.  In addition, Mellie is the first in-house creative person to whom this award has been given.
Mellie has worked at Global CU for 8 1/2 years.  She has been in the position of Brand Manager since August 2014.  She was instrumental in the 2013 rebranding of Global CU. Prior to working at Global CU, Mellie freelanced at local Spokane Advertising agencies.
Abigail Franklin, Vice President of Marketing at Global CU has worked with Mellie and remarks, "We are so proud of Mellie and all that she has accomplished. She has given so much to our community and our credit union. She is a leader in her field and brings that passion and commitment to the work she does every day at Global."
Mellie attended Western Washington University and completed a BA Degree in Fine and Performing Arts with a concentration in graphic deign. She grew up in Soap Lake, Washington.  During middle school, her family moved to Spokane.  She attended Mt. Spokane High School and after college, married her childhood sweetheart, Bret.  They have a daughter, Scarlett.
Mellie has been involved with AAF Spokane for 10 years.  She has been on the board for a total of 9 years.  She was AAF President from summer 2009 until 2011.She is proud of advocating the relationship between AAF and the local colleges.  She also revamped the Red Shoe Event which raises money for the TMR Scholarship fund for local design and performing art students.
About Global Credit Union
Global Credit Union, founded in 1954 is a full service financial institution with assets of over $352 million serving 48,000+ members residing around the world. Membership is open to anyone living or working in Washington State, Kootenai, Benewah, Shoshone or Latah counties in Idaho, and all active and retired military members and their families worldwide. For more information about Global Credit Union please visit www.globalcu.org.
---