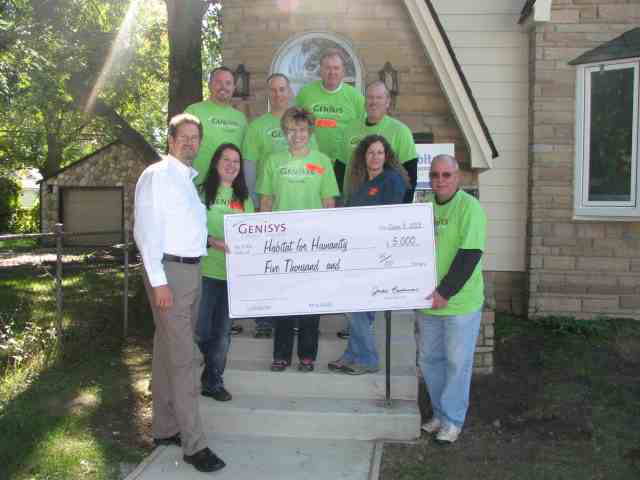 Members of Genisys Credit Union's management team roll up their sleeves to assist Habitat for Humanity
AUBURN HILLS, MI (October 15, 2013) — Members of the management team at Genisys Credit Union, which provides services to anyone who lives or works in the Lower Peninsula, displayed their dedication to making a difference in the community by donating their time on Thursday, October 10, 2013, volunteering with Oakland County Habitat for Humanity.
"We had a great time working together to provide a member of our community with a safe and livable home," said Jackie Buchanan, President/CEO. "It's always rewarding to know that we've helped make a difference in someone's life."
Together, Habitat for Humanity and Genisys Credit Union provided much-needed renovations to the home for a single mother who is pursuing an education to become an EMT.
"I am eternally grateful for your time and I wish there was more I could offer you more than just my thanks," said the future home owner. Currently the single mother and her daughter are sharing a one bed room apartment.
Genisys volunteers helped with a variety of home-building needs including installation of appliances and deep cleaning of the house.
About Genisys Credit Union
Genisys Credit Union is a not-for-profit, member-owned financial institution that has been committed to helping its members financially since 1936. Based out of Auburn Hills, MI, Genisys is one of the largest credit unions in Michigan, with over 138,000 members and 24 branch locations. Anyone who lives or works anywhere in the Lower Peninsula of Michigan can open an account at Genisys Credit Union. They are proud to be making a difference in their communities, and truly believe that Genisys is "where you come first". Connect with Genisys on Facebook and Twitter by following "GenisysCU". For convenient access to your account, download the Genisys iPhone App in the iTunes Store and Android App in the Google Play Store. For more information or a calendar of events, visit Genisys online at www.genisyscu.org.
About Habitat for Humanity International
Habitat for Humanity International's vision is a world where everyone has a decent place to live. Anchored by the conviction that safe and affordable housing provides a critical foundation for breaking the cycle of poverty, Habitat has helped more than 3 million people construct, rehabilitate or preserve homes since 1976. Habitat also advocates for fair and just housing policies and provides training and access to resources to help more families improve their shelter conditions. As a nonprofit Christian housing organization, Habitat works in more than 70 countries and welcomes people of all races, religions and nationalities to partner in its mission. To get more information, to donate or to volunteer, please visit www.habitat.org.
---