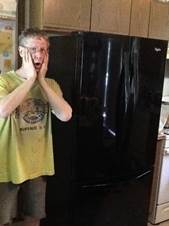 Members win big during Educational Community Credit Union's Summer Bucket List Loan Promotion and Facebook Contest
KALAMAZOO, MI (July 25, 2014) — Educational Community Credit Union (ECCU) is making member dreams come true with its Summer Bucket List Loan Promotion through August 31, 2014. With rates as low as 4.99% APR, the Summer Bucket List Loan is helping members finance their dreams – members can tap into loan amounts of $500 to $60,000 with no payments for 60 days.*
Conversation is also happening online where the Summer Bucket List contest continues. ECCU is asking members and fans to upload a photo on Facebook of their favorite bucket list item, or simply fill out an online entry form at eccu1.org/bucketlist.** In all, three $1,000 Visa gift cards are up for grabs. "We've already had more than 2,600 entries from members and guests sharing their bucket list items," says ECCU Marketing Manager Tina Mason.
Three lucky winners, one drawn in July, August and September, will each receive a $1,000 Visa gift card. ECCU's first winner (from entries through June 30th) is Gull Road member Dan Behrman, who used his gift card to purchase a beautiful new refrigerator.
"We're thrilled for Dan," says ECCU Gull Road Branch Manager Barb Heinonen. "Dan always greets us with a smile and a 'hi.' He's a kind and giving man and always looking to do things for others. It feels great to repay his generosity and give back to our members."
Mason says the promotion kick-started the summer lending season on June 1, 2014 with 217 bucket loans disbursed to date. "Members love sharing their dreams with us. Now, with our Summer Bucket List Loan, we can help them secure those dreams with an exceptional rate."
Each office is also having fun with the promotion. "All branches have a dry erase board that members can sign and add their own bucket list item," continues Mason. "Staff is encouraging members to be part of the contest, regardless if they need a loan."
The Summer Bucket List Loan continues through August 31st. ECCU members and fans can save with loan rates as low as 4.99% APR or win $1,000 toward an item on their own bucket list. To enter, individuals can upload a photo on ECCU's Facebook Page (www.facebook.com/eccu1mi), complete an entry form at any branch, or online at eccu1.org/bucketlist.
"We're excited to help members fulfill their bucket list dreams," concludes Mason. With seven convenient locations, ECCU is a full service financial institution serving anyone who lives or works in a 21-county area in West Michigan. For details on credit union membership, visit www.eccu1.org.

About ECCU
Established in 1935, ECCU has grown from serving only Kalamazoo school employees, to serving the greater educational community, to now providing a full range of financial products and services to anyone who lives, works, worships or attends school in any of our 21 Michigan counties. The credit union exceeds $414 million in assets and serves more than 36,000 members. Visit eccu1.org to learn more about membership and why ECCU just feels right, and our members feel right at home.
 * Annual Percentage Rate (APR). Some restrictions apply. Additional rates and terms are available. The rate you receive will be determined by your credit score at the time of application and the term of your loan. Loan subject to credit approval. ECCU summer loan offer available between June 1 and August 31, 2014. Loans must be disbursed by September 10, 2014 to receive promotional rates. Loan amounts are available from $500 to $60,000. Maximum loan repayment term is 84 months. First payment may be deferred up to 60 days and is dependent upon when your loan closes. Interest accrues from date of loan disbursement. 
**No purchase necessary. Must be 18 years of age or older. Promotion period: all eligible automatic and manual entries, as provided in the Official Rules, received between June 1 and August 31. Entry in this promotion or acceptance of any prize constitutes acceptance of the Official Contest Rules. Contact the Credit Union at 800.442.7340 or locally at 269.375.6702, or write us at: ECCU, Summer Bucket List Promotion, 1551 South 9th Street, Kalamazoo MI 49009; or click here to obtain a complete copy of the Official Contest Rules for this promotion.
PHOTO: Facebook contest winner, ECCU member Dan Behrman, shows off the refrigerator he purchased with his $1,000 Visa gift card
---