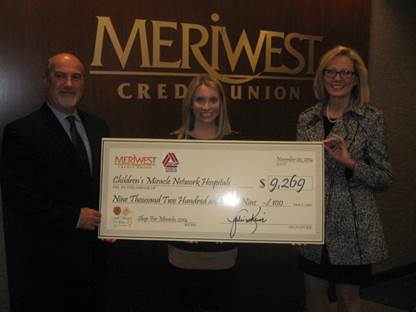 Meriwest Credit Union donates $9,269 to Children's Miracle Network Hospitals
SAN JOSE, CA (November 25, 2014) — Meriwest Credit Union raised $4,634.50 during their participation in Shop for Miracles, a one-day Credit Unions for Kids program that took place on Oct. 16, 2014. Funds raised from this campaign support UCSF Benioff Children's Hospital Oakland, the local Children's Miracle Network Hospital (CMNH).
Each time Meriwest members used their credit union-issued debit card on Oct. 16, Meriwest donated $0.25 per transaction towards to UCSF Benioff Children's Hospital Oakland. Meriwest saw a 35% increase in member transactions this day in support of this campaign.
Thanks to a dollar-for-dollar match from CO-OP Financial Services' Miracle Match program, Meriwest was proud to present a check for $9,269 to UCSF Benioff Children's Hospital Oakland.
"All of us at Meriwest are deeply and profoundly touched by the generous support from all those who opened their hearts and wallets during the one-day Shop for Miracles fundraiser.  We are honored that the proceeds went to UCSF Benioff Children's Hospital to support programs that create hope for children and their families throughout the Bay Area and beyond," said Julie Kirsch, Meriwest Credit Union's President and CEO.
Photo Caption:  Here, Meriwest's CEO, Julie Kirsch (right) and CXO, Tony Cortez (left) are show here with Katie Kendrick, Director, Children's Miracle Network Hospitals (center).r
---