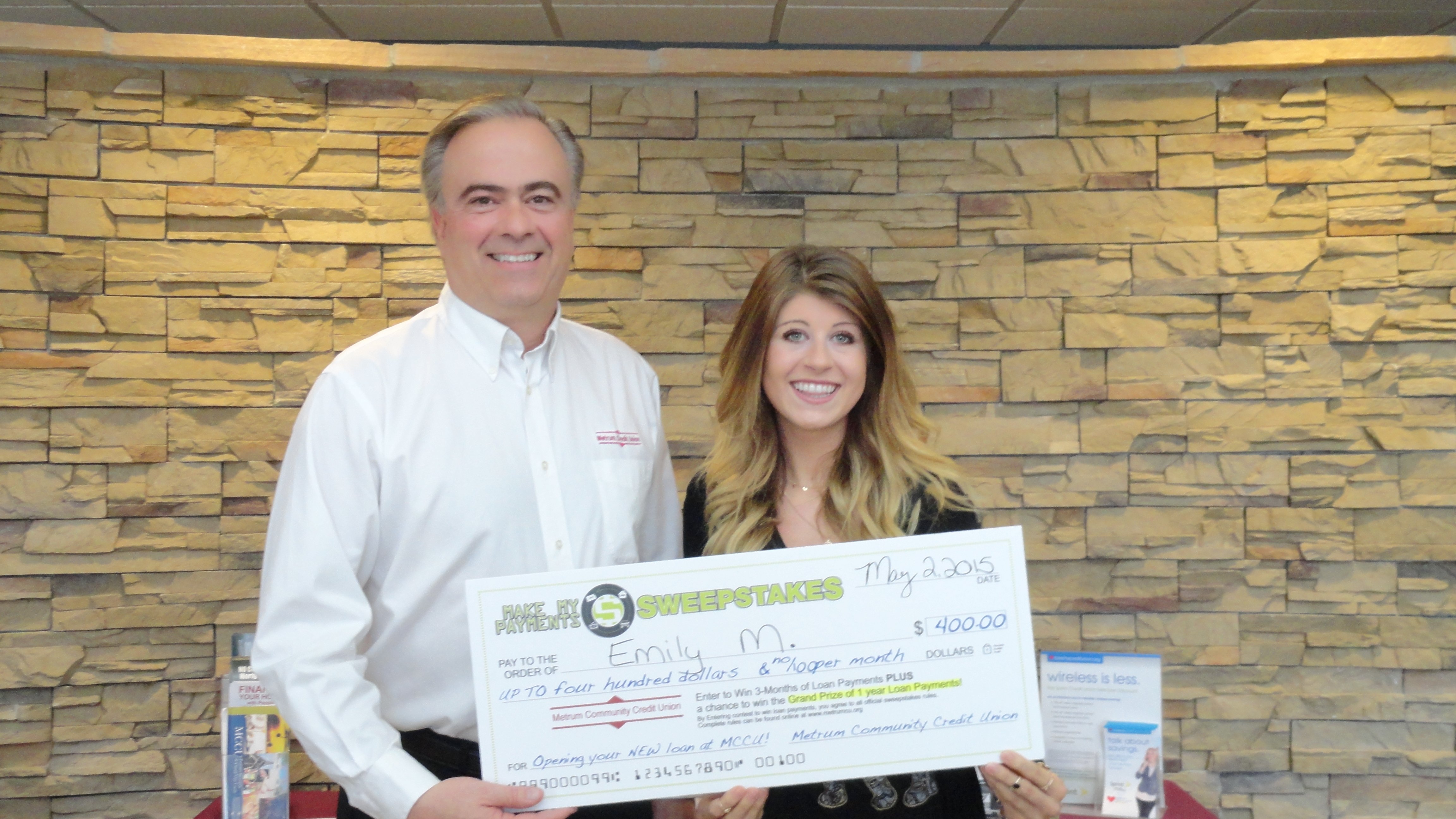 Metrum Community Credit Union announces "Make My Payments" sweepstakes winner
CENTENNIAL, CO (May 26, 2015) — Metrum Community Credit Union announced the winner of its Make My Payments" Sweepstakes, a contest for members of the credit union who opened new loans at Metrum.
The winner was announced at the 68th Annual Meeting on May 2, 2015, which was held in conjunction with an open house for members. Emily Mossberger was presented with the Grand Prize of twelve months of no payments on her loan with the credit union.
The sweepstakes, began July 1, 2014 and ended March 31, 2015. More than 550 member entries were received when members opened a new loan with the credit union. "The Make My Payment Sweepstakes was designed as a way to give back to the members that borrow at the credit union, said Karen Padrevita, Marketing Director of Metrum Community Credit Union. "Throughout this sweepstakes, we were able to give back over $7,900 to our members."
About Metrum Community Credit Union
Metrum Community Credit Union serves employee groups, residents and family members in Centennial and Commerce City and surrounding areas. Metrum Community Credit Union, originally chartered in 1946, is a member-owned, not-for-profit financial cooperative committed to providing for the financial success of all members.  We offer competitive products such as checking accounts, loans, mortgages, online banking and more. We are a part of the Shared Branching Network. For more information, visit http://www.metrumcu.org
Photo caption: Steve Kelly, MCCU President, awards Emily Mossberger with the grand prize check as the winner of the Make My Payments sweepstakes.
---