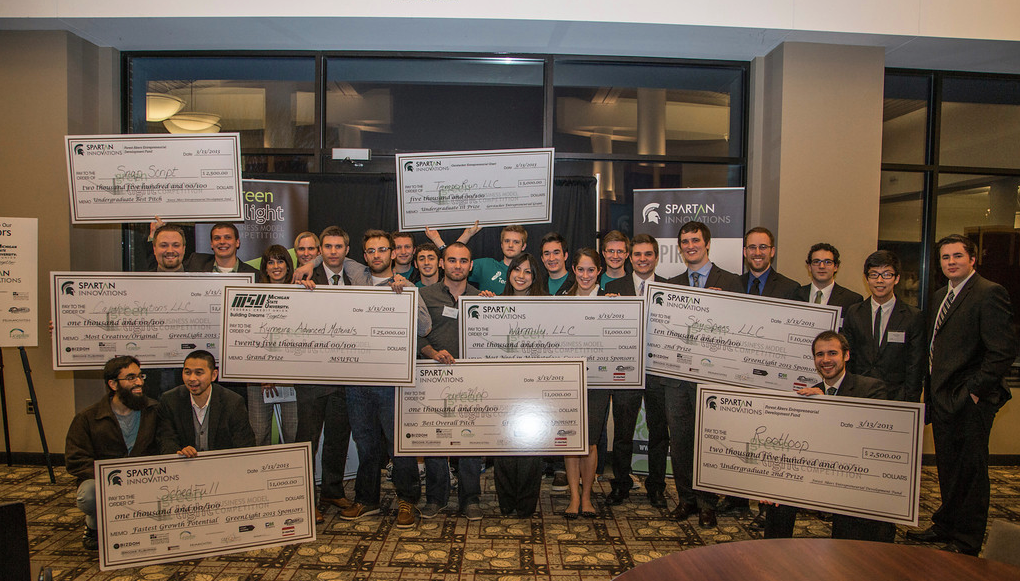 Michigan State University Federal Credit Union (MSUFCU) Presents $25,000 to Greenlight Business Model Competition Winner
MSUFCU awards $25,000 to Kymeria Advanced Materials.
EAST LANSING, MI—The 2013 Greenlight Business Model Competition, created by Spartan Innovation and MSUFCU, was an opportunity for entrepreneurs from all over Michigan to come together to pitch their business ideas. There were over $50,000 in available prizes, with the chance for participants to win the grand prize of $25,000, sponsored by MSUFCU.
During the first round of the competition, participants were asked to complete an application and business plan. Then, twenty-five (25) finalists pitched their business ideas in front of a panel of seven (7) judges. Prizes were awarded based on best pitch, fastest growth potential, best idea for Michigan, most creative, and most needed in the marketplace. Three endowments were designated for undergraduate students.
The grand prize of $25,000 went to Kymeria Advanced Materials, created by Cameron Smith, Vincent Alessi, Dave Hatfield, and Reed Shick. Kymeria Advanced Materials is currently developing new chemistry for ceramics, which brings the benefits of existing advanced ceramics to new parts and markets.
"MSUFCU was proud to sponsor the Greenlight Competition this year and invest in a program that will bring new businesses to Michigan to help improve our economic conditions statewide," said panel judge, April Clobes, MSUFCU's Executive Vice President and Chief Operating Officer.
For additional information about the Greenlight Business Model Competition, please visit www.greenlightmichigan.com
MSU Federal Credit Union, the world's largest university-based credit union, offers a full range of personal- and business-related financial services to Michigan State University and Oakland University faculty, staff, students, alumni association members, and their families worldwide in addition to a variety of select employee groups. Founded in 1937 by a few MSU professors and employees, MSUFCU now has eleven branches, over 170,000 members, more than $2.3 billion in assets, and over 490 employees.
---