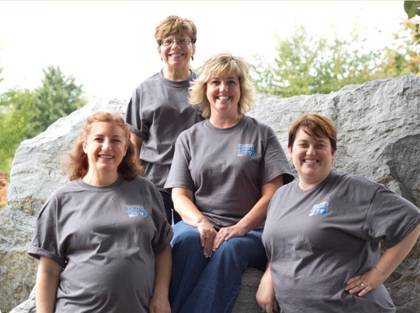 Mid-Atlantic Corporate family raises $490 during Miracle Jeans Day 2014
MIDDLETOWN, PA (September 17, 2014) — Mid-Atlantic Corporate and its family of companies are happy to be a part of making miracles happen for the patients at Children's Miracle Network (CMN) Hospitals. As part of this effort, staff took part in Miracle Jeans Day on September 10 and raised $490 in donations.
Miracle Jeans Day is a national campaign presented by Credit Unions for Kids during which credit unions across the country encourage employees to wear jeans in exchange for a $5 donation to CMN Hospitals. Employees can donate an additional $25 to receive a specially-designed Miracle Jeans Day t-shirt.
Several Mid-Atlantic Corporate employees proudly sported jeans and 6 purchased Miracle Jeans Day t-shirts, which displayed the phrase, "I put my money where the miracles are."
The $490 that Mid-Atlantic Corporate raised will go directly to our local Penn State Hershey Children's Hospital for equipment and treatment programs.
Mid-Atlantic Corporate thanks all of the credit unions that participated in Miracle Jeans Day 2014.
About Mid-Atlantic Corporate Federal Credit Union
Mid-Atlantic Corporate Federal Credit Union and its members have been well-served by a conservative financial management approach. It is a federally chartered corporate credit union that serves CUSOs, leagues, chapters, and more than 800 credit unions. Mid-Atlantic Corporate and its family of companies provide quality investment, lending and payment services, including ACH, share draft and electronic bill payment, as well as core processing, asset liability management and risk management solutions.  Mid-Atlantic Corporate develops services with our member in mind, and delivers them with the kind of accountability, consideration and responsiveness our members expect – and deserve. For more information, please visit www.midatlanticcorp.org, www.mycuservices.com, www.amiscu.com, www.sollievo.com, and www.atonfm.com.
About Children's Miracle Network Hospitals
Children's Miracle Network Hospitals® raises funds and awareness for 170 member hospitals that provide 32 million treatments each year to kids across the U.S. and Canada. Donations stay local to fund critical treatments and healthcare services, pediatric medical equipment and charitable care. Since 1983, Children's Miracle Network Hospitals has raised more than $5 billion, most of it $1 at a time through the charity's Miracle Balloon icon. Its various fundraising partners and programs support the nonprofit's mission to save and improve the lives of as many children as possible. Find out why children's hospitals need community support, identify your member hospital and learn how you can Put Your Money Where the Miracles Are, at CMNHospitals.org and facebook.com/CMNHospitals.
---