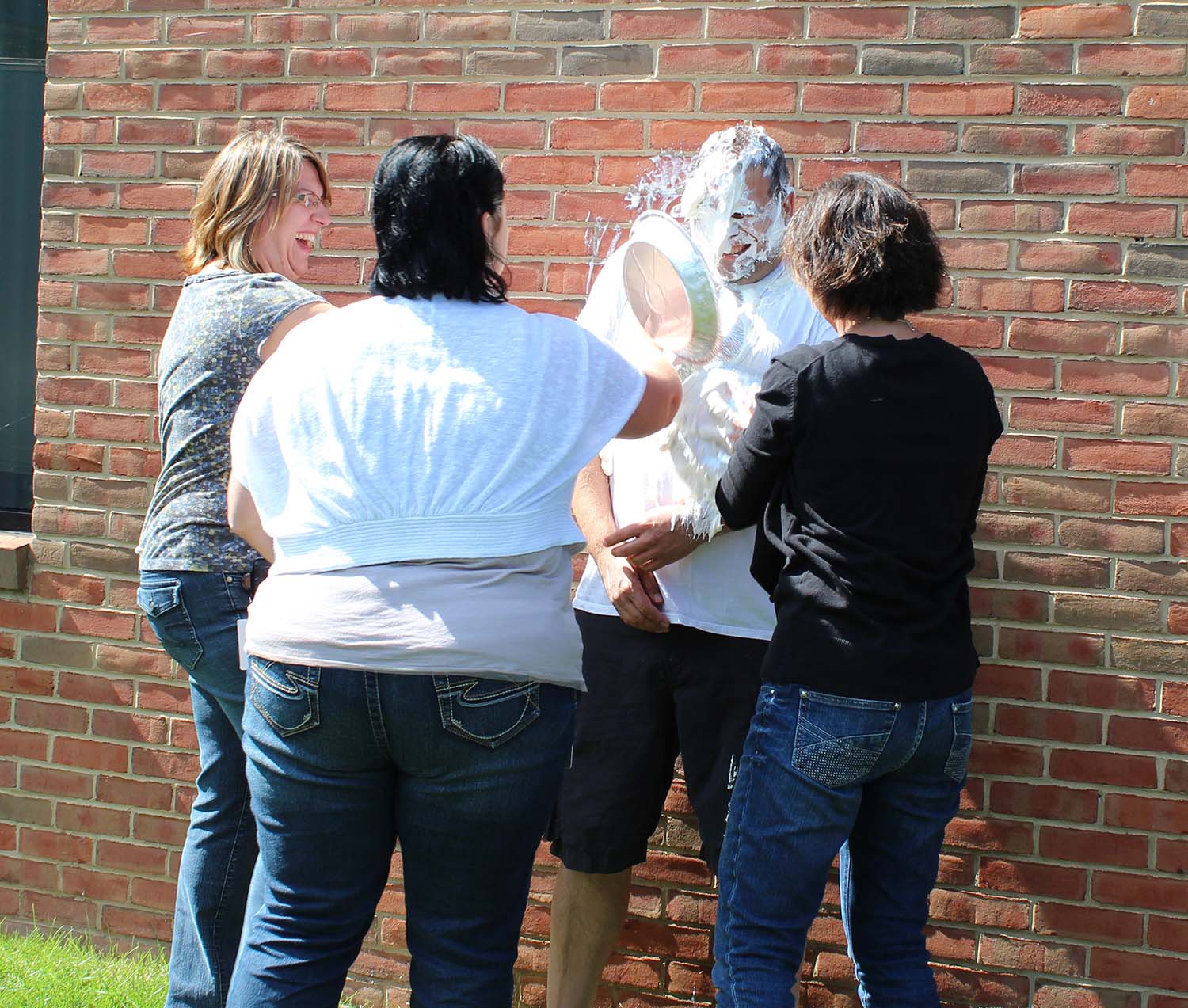 Mid-Atlantic Corporate's Employees Collect 850 Pounds of Food
Pies in the face, dunks in cold water help benefit Central Pennsylvania Food Bank
Middletown, Pa. (Oct. 26, 2012) – During September, Mid-Atlantic Corporate Federal Credit Union participated in a Food Drive Challenge organized by the Central Pennsylvania Food Bank, gathering 850 pounds of groceries for donation. The annual competition asks local businesses to collect canned goods and other non-perishable food items to support hunger relief programs throughout the area.
"Contributing to such a worthwhile cause is a heartwarming experience for our staff," said Janice Appleby, SVP, Human Resources for the Corporate. "We enjoyed supporting this project as a way to help our local community."
To encourage participation, Mid-Atlantic Corporate established incentives for employees. In exchange for food donations, staff members could throw pies in a senior officer's face or dunk an officer in a dunk tank. "Everyone had a great time supporting a great cause," said Appleby.
The 850 pounds of food raised by the staff represent nearly 830 meals to people in need across central Pennsylvania. In addition to the food donations, 20 Mid-Atlantic Corporate employees gave their personal time to volunteer at the food bank.
Donations to the food pantry provide monthly food packages to impoverished senior citizens and weekend backpacks of food for children who depend on school lunch programs for survival, as well as supplying soup kitchens, shelters and food pantries.
About Mid-Atlantic Corporate Federal Credit Union
Mid-Atlantic Corporate Federal Credit Union and its members have been well-served by a conservative financial management approach. It is a federally chartered corporate credit union that provides quality investment, lending and payment services to a national field of membership. Mid-Atlantic Corporate serves CUSOs, leagues, chapters, and more than 800 credit unions. Services include ALM, ACH, share draft processing, electronic bill payment, remote image capture and more. For more information, visit www.midatlanticcorp.org.
About Central Pennsylvania Food Bank
The Central Pennsylvania Food Bank distributes more than 20 million pounds of food and grocery products every year to more than 600 soup kitchens, shelters, and food pantries in 27 central Pennsylvania counties.  For more information on the Central Pennsylvania Food Bank, please visit http://centralpafoodbank.org/.
---