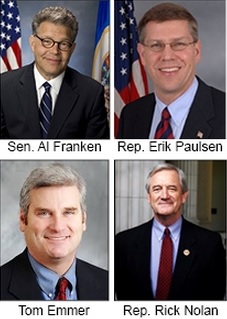 Minn. credit unions endorse bipartisan slate of candidates in 2014 congressional races
ST. PAUL, MN (October 1, 2014) — The Minnesota Credit Union Network's (MnCUN) Political Involvement Committee voted to endorse a bipartisan mix of two Republicans and two Democrats for Congress in this year's elections. MnCUN's endorsed candidates are:
Sen. Al Franken (DFL)
Rep. Erik Paulsen (R) – 3rd Congressional District
Former State Rep. Tom Emmer (R) – 6th Congressional District
Rep. Rick Nolan (DFL) – 8th Congressional District
"Each of these candidates has demonstrated a strong commitment to issues that are important to credit unions and their members," said MnCUN Vice President -Governmental Affairs, Mara Humphrey. "We are proud to support them in the 2014 elections." Looking ahead to the 114th Congress, which will convene on Jan. 3, 2015, credit unions will work directly with elected officials on critical industry issues such as:
Increasing the member business lending limit
Monitoring developments on the National Credit Union Administration's risk-based capital proposal
Preserving credit unions' tax status
"Credit unions are Minnesotans' trusted, local, not-for-profit financial partners, and they are closely connected to the communities they serve," said MnCUN President & CEO Mark D. Cummins. "We will continue to meet with legislators on these and other topics so we can advocate effectively on behalf of Minnesota credit unions and their members."
MnCUN is the statewide organization that represents the needs and interests of credit unions in Minnesota. The Political Involvement Committee provides input and recommendations on legislative efforts at the state and federal level. The Political Involvement Committee and the federal-level Credit Union Legislative Action Council (CULAC), which is among the most bipartisan of PACs in Washington, D.C., make decisions to endorse candidates based solely on their support of credit union issues – without regard to party affiliation or other political beliefs. More information about all MnCUN endorsements is available on the MN Credit Union News website.
The Minnesota Credit Union Network is the statewide trade association that works to ensure the success, growth and vitality of Minnesota credit unions. With nearly $20 billion in assets, Minnesota credit unions are local, trusted financial cooperatives that serve more than 1.6 million members at 400+ locations around the state. As not-for-profit institutions, credit unions give back to the communities they serve. For more information, visit www.mncun.org.
---