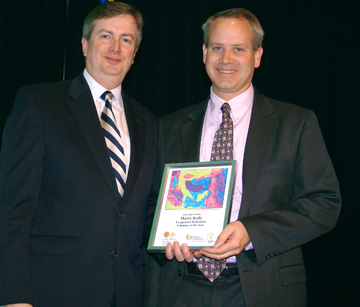 Minnesota Credit Union Committee Members Awarded for Service, Dedication
BLOOMINGTON, MN (June 5, 2013) The Minnesota Credit Unions for Kids (MnCU4Kids) committee and the Minnesota Family Involvement Council (FIC), committees of the Minnesota Credit Union Foundation, recently honored two people for their outstanding service and contributions to their respective committees. Marty Kelly of US Federal Credit Union and Andrea Molnau of United Educators Credit Union were recognized during an awards banquet at the Minnesota Credit Union Network's (MnCUN's) 2013 Annual Meeting & Convention in May.
Kelly, Senior Vice President of Marketing & Business Development at US Federal Credit Union in Burnsville, was honored with the MnCU4Kids Volunteer of the Year Award. He became a committee member in 2006 and has contributed to the success of the Minnesota Credit Unions for Kids committee and its fundraisers in many ways. He's often the first to volunteer to lead the organization of committee events, and he has been instrumental in the success of the Credit Union for Kids golf tournament, annual meeting fundraiser, and the Bowl-O-Rama event.
"Receiving this honor was extraordinarily flattering, considering the many talented individuals with whom I serve on the Credit Unions for Kids committee," Kelly said. "They are a tireless group doing great things for Gillette. All of the committee members have their hearts behind this cause, raising money that directly helps the kids and families who need it."
Last year, Minnesota raised more than $200,000 for Gillette Children's Specialty Healthcare in St. Paul, which has outreach clinics across the state. Nationally, fundraising for CU4Kids takes place in all 50 states.
Molnau, Vice President of Marketing at United Educators Credit Union in Apple Valley, was chosen for the Minnesota Family Involvement Council's Outstanding Volunteer Award for her longtime service on the committee. Currently the FIC's Vice Chair, Molnau has been a part of the Family Involvement Council since 2002, and has also held the position of Secretary. She is one of the most senior committee members and is an integral part of the FIC's successful scholarship program and other initiatives. She is a committed and enthusiastic supporter of youth financial literacy and the credit union movement.
The FIC is a volunteer-based organization run by credit union professionals. Its mission is to enhance the future of the credit union movement by providing financial awareness to families. The FIC focuses on providing scholarships to Minnesota credit union members to help further their education and to nurture their relationship with credit unions. The recipient of this annual award is voted on by members of the council.
"The FIC is an incredible group of people. There are many on the committee who work very hard and are quite deserving of this award. I am honored and humbled to be recognized by them," said Molnau. "The committee's dedication to our scholarship program and commitment to financial education are notable contributions to Minnesota's credit unions. It's very rewarding to be part of this team."
"It's the dedication of people like Marty and Andrea, and their willingness to go above and beyond for the greater good, is what helps strengthen credit unions," said Kelli Sandhurst, MnCUN Communications Specialist and MnCU4Kids and FIC liaison. "They truly believe in what credit unions and their committees stand for, and the recognition they received is well-deserved."
The Minnesota Credit Union Network is an organization representing the state's 133 not-for-profit cooperative credit unions serving more than 1.5 million member-owners in Minnesota. For more information, visit www.mncun.org.
---