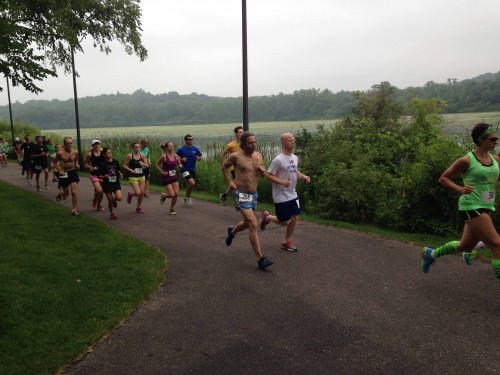 Minnesota Credit Union Foundation raises money for financial education grants at Inaugural Financial Literacy 5K
BLOOMINGTON, MN (July 23, 2014) — Nearly 300 financial education supporters took part in the inaugural Minnesota Credit Union Foundation Financial Literacy 5K on July 12. The event was held at Lake Normandale in Bloomington and featured a walk/run for adults, as well as a half-mile fun run for kids.
Powered by soleMOTION Race Management, the event included awards for first place male and female finishers overall, and the top three male and female finishers in six age categories. First place overall male and female winners were Alex Lieber and Megan Stuart.
"Hosting this 5K event raises awareness of the need for consumers to have greater knowledge and understanding of money management," said Foundation Chairman Pat Brekken. "The strong turnout today highlights the key role that credit unions play in improving the lives of the members and communities that they serve."
Credit unions, schools and organizations that registered five or more Financial Literacy 5K participants were eligible for the team award. Participants' times are being aggregated and averaged to determine the best team time. (Team award winner to be announced later in July.)
"We are pleased with the turnout and the success of this first-year event, thanks to the support we received from credit unions and financial education organizations and supporters," said Kristina Wright, Minnesota Credit Union Foundation Executive
Director. "Our efforts as a Foundation are small compared to the time and energy that our state's credit unions dedicate on an ongoing basis to providing personal finance education to members, students, and members of the community."
The Minnesota Credit Union Foundation is an organization committed to helping credit unions and communities prosper and thrive. The Foundation serves as the charitable arm of the Minnesota credit union movement, focusing chiefly on financial education and professional development opportunities to sustain the credit union movement. The Foundation also works through its committees – Minnesota Credit Unions for Kids and the Family Involvement Council – to support the local Gillette Children's Hospital and college scholarships for credit union members.
In 2013, the Foundation launched its Financial Education Grant Program and an ongoing budgetary commitment to financial education. The Foundation dedicates 50 percent of its annual budget to Financial Education Grants that positively impact credit union members and communities.
Keenly focused on financial education and professional development initiatives, the Minnesota Credit Union Foundation is dedicated to providing the resources for credit unions and communities to prosper and thrive. The Foundation is a non-profit organization founded in 1969 to serve as a charitable arm of the Minnesota credit union movement. For more information, visit www.mncufoundation.org.
– See more at: http://mncreditunionnews.org/minnesota-credit-union-foundation-hosts-inaugural-financial-literacy-5k#sthash.F6XCEKms.dpuf
Photo: Financial Literacy 5K participants at Lake Normandale in Bloomington on July 12. 
---