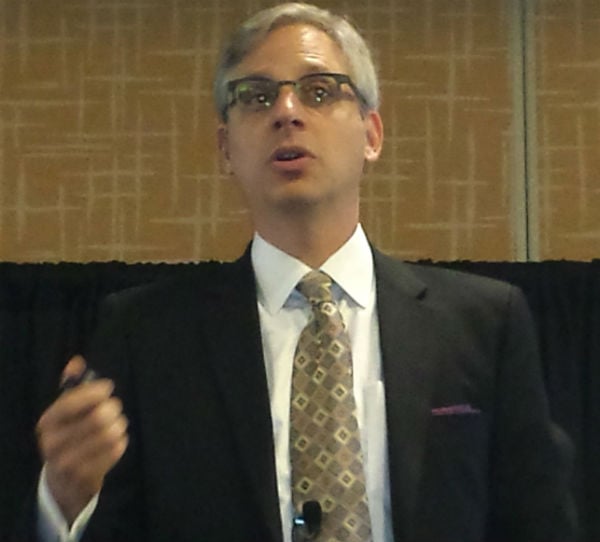 Mobile lending not an add-on, it's a strategy, ACUC attendees are told
CUNA Mutual Group Speaker Says Mobile Must Be Tied to a CU's Goals, Strategy to be Worthwhile.
SAN FRANCISCO, CA (July 1, 2014) — Credit unions are beginning to realize the importance of mobile lending, but many haven't figured out how it fits into the strategy of their business, a CUNA Mutual Group lending specialist told attendees of America's Credit Union Conference on Tuesday.
"A credit union has to go back to its vision, values and mission in determining its future in mobile. Mobile is a strategy," Robert Israelite, lending and compliance specialist, CUNA Mutual Group, said Tuesday. "It has to start with why you are in business. Before getting into mobile, a credit union should determine if their goals and strategy are related to mobile. If there's no purpose to be on mobile, it's worthless because it has to be connected to a strategy."
Israelite said if a credit union's vision is to provide personalized, one-on-one, face-to-face consultative services to a segment-based group, they may determine they don't need mobile. "But, if a credit union wants to be a full-service provider to members in the member's delivery channel of choice, then the credit union needs to have a mobile-first mindset across their entire business."
Many veteran CEOs have expressed disbelief that members are applying for loans on mobile devices, and boards are even further removed, Israelite said during his Discovery breakout session.
"Most credit union staff have never applied for a loan in a member channel, and that's a problem," Israelite said. "They have internal ways of doing it. Staff need to put themselves in the shoes of a "real member" or potential member who doesn't have strong ties to the credit union."
Credit unions deciding mobile is essential to their business need to know and experience every online member-facing channel. Israelite urged attendees to "go through every link on your site, and if you don't control it talk to business partners who do to get it optimized for mobile. You need to understand what your members are experiencing."
If a credit union determines mobile serves its mission and value, "you'd better get moving because you're already late to the party," Israelite added. He said credit unions late into the game have already lost more members than they'll ever know about. Those members, he added, have moved on and they'll never come back.
"We lose a credit union every day with the merger pace continuing. There is urgency if your credit union has determined it needs to adopt mobile, but hasn't yet. You are setting up your legacy for your credit union to be around. If you miss this, you won't fulfill your legacy."
To learn more, follow @CUNAMutualGroup on Twitter, circle +CUNA Mutual Group on Google+, or visit http://www.cunamutual.com/pressroom.
CUNA Mutual Group was founded in 1935 by credit union pioneers, and our commitment to their vision continues today. We offer insurance and protection for credit unions, employees and members; lending solutions and marketing programs; TruStage® consumer insurance products; and investment and retirement services to help our customers succeed. More information is available on the company's website at www.cunamutual.com
CUNA Mutual Group is the marketing name for CUNA Mutual Holding Company, a mutual insurance holding company, its subsidiaries and affiliates. Life, accident, health and annuity insurance products are issued by CMFG Life Insurance Company. Property and casualty insurance products are issued by CUMIS Insurance Society, Inc. Each insurer is solely responsible for the financial obligations under the policies and contracts it issues. Corporate headquarters are located in Madison, Wis.
---