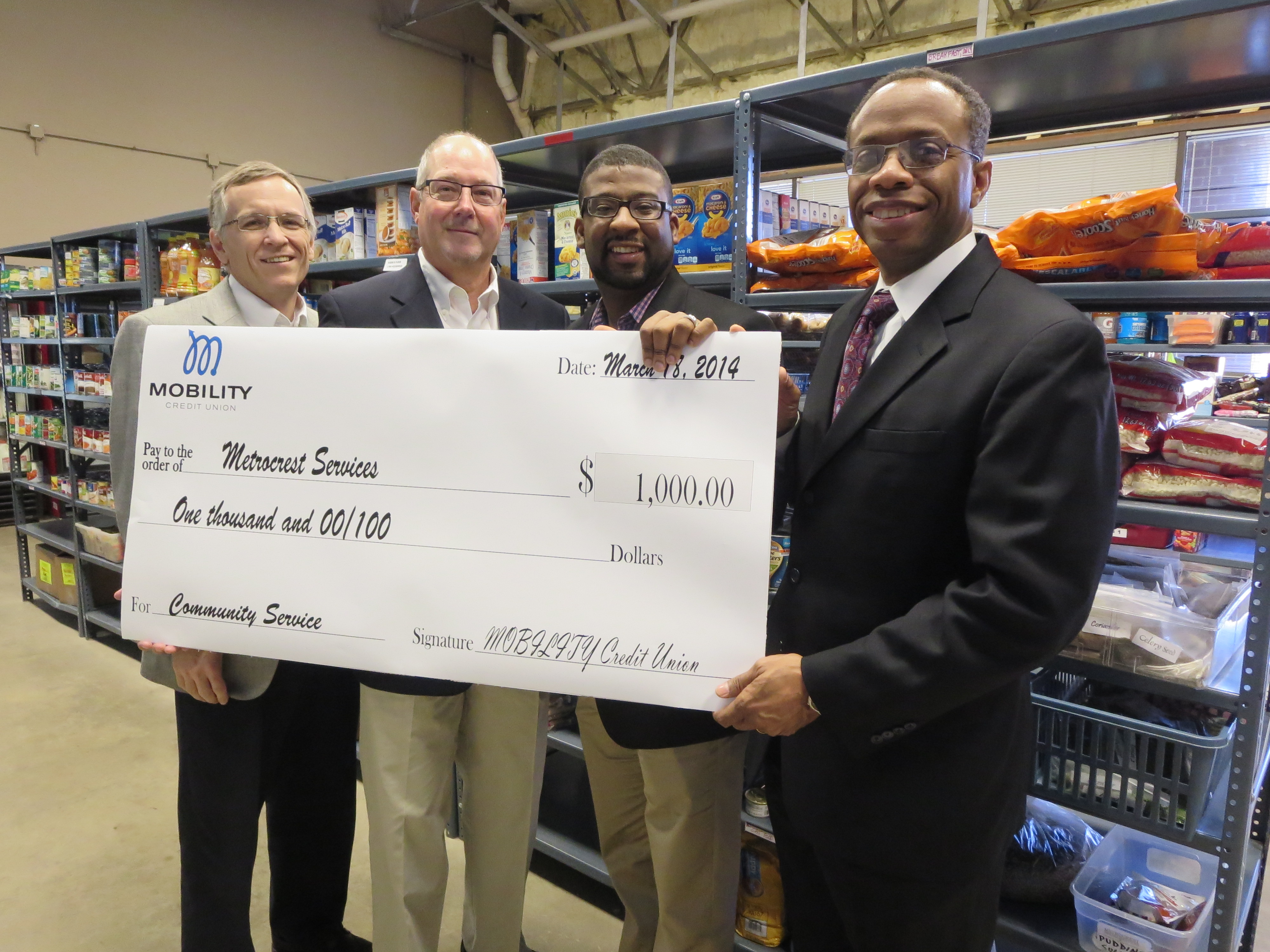 MOBILITY Credit Union donates $1,000 to Metrocrest Services
IRVING, TX (April 18, 2014) — MOBILITY Credit Union donated $1,000 to Metrocrest Services, a nonprofit organization that provides programs to aid self-sufficiency and independence for residents of Carrolton, TX; Farmers Branch, TX; Addison, TX; Coppell, TX; and the City of Dallas in Denton County, TX.
Tracy Eubanks, CEO of Metrocrest Services, appreciates the donation. "Metrocrest Services serves over 13,000 of our neighbors each year with a wide range of aid programs and financial education services. Support from great organizations such as MOBILITY Credit Union is essential to sustaining these programs. MOBILITY Credit Union is a leader in our community."
MOBILITY Credit Union, formerly YOUR Community Credit Union (YCCU), has served the financial needs of the DFW and Houston communities for 49 years. Along with meeting the financial needs of its members, MOBILITY CU has also actively given back to the communities it serves through working with nonprofits, such as Metrocrest Services. The credit union is also a member of the Metrocrest Chamber of Commerce and Coppell Chamber of Commerce.
About MOBILITY Credit Union
MOBILITY Credit Union is a state-chartered community credit union with assets exceeding $175 million and 12,000 members. Based in Irving, TX, MOBILITY CU also has branches in Hurst, TX; Farmers Branch, TX; and Houston.
About Metrocrest Services
Metrocrest Services is a 501(c)(3) nonprofit which provided financial aid and assistance to 13,000 families, individuals and seniors living in Carrollton, Farmers Branch, Addison, Coppell and the city of Dallas in Denton county last year. Services include rent and utility bill assistance, a client-choice food pantry, employment counseling, transportation and home-delivered meals for seniors, minor home repairs and safety installations for seniors, medical equipment loans and several seasonal programs. For more information visit www.metrocrestservices.org or contact Tracy Eubanks at 972-446-2101.
---